25th, 26th and 27th May, The Great Little Trains Model Show
26th & 27th May, Bala Lake Festival of Transport
Two great family shows on one weekend at either end of the railway and the best way to get from one to the other is by train, plus a connecting vintage bus service between the model show, local carparks and Bala station. We're putting on an extensive timetable with frequent departures so you can park once and enjoy a great day out.
The Great Little Trains model show will be held at Ysgol Y Berwyn in Bala, while the Festival of Transport will be held in the camp-site field adjoining Llanuwchllyn station.
The model show will feature around 30 layouts with trade support, with a focus on narrow gauge models.
The Festival of Transport will have a wide range of vintage vehicles on display.
Note: There is a separate charge for both the Model Show and the Festival of Transport:
Model Show: Adults £5 – Family (2+2) £10
Festival of Transport: Adults £5 – Family (2+2) £12 – Children (under 16) £3
Railway Timetable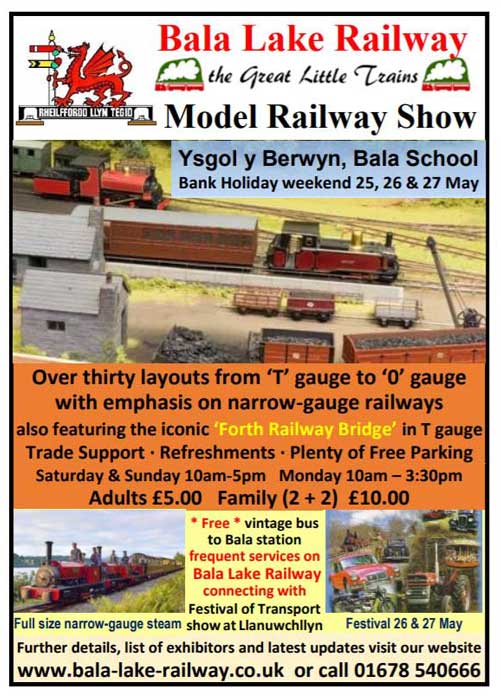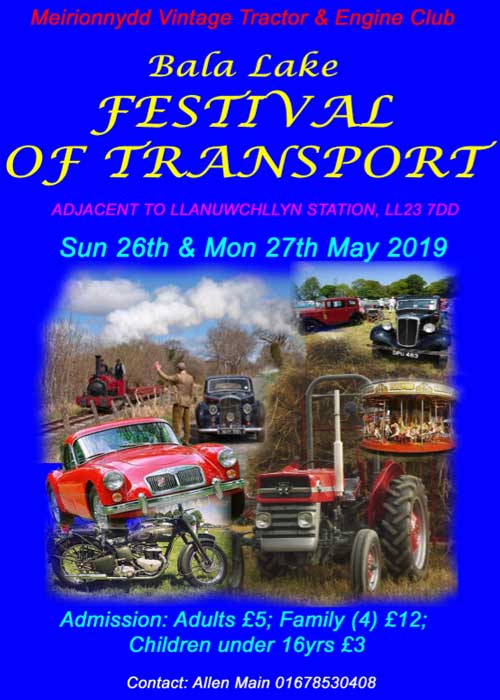 Click here to view a selection of photos from the 2018 model show.
Confirmed layouts at the Model Show
'The Forth Railway Bridge' Doug Knightly T Gauge
'Lakeside Park' T Gauge Alan Ramsey
'Green Pond Mine' OO9/Hof Richard & Judy Wallace
'Dogfriol' OO9/Hof/Hon3 Richard & Judy Wallace
'Woolthorpe Light Railway OO9-Richard& Judy Wallace
'Teifi Gorge' OO9 Shaun Butler/ Pat Browne.
'Chwarel Cwm Bach 2.0' (work in progress), 009, by Tim Williams
'Castell Coed' John Wooden Ffestiniog Railway
'Arnold Lane', 009, by John Wooden Ffestiniog Railway
'Cheese Factory', 009,by John Wooden Ffestiniog Railway
'Dinorwic Quarry' by Julian Birley As Featured in Modelrail O-16.5 Welsh Quarry Detailed Layout
'Colwyn Valley Light Railway' OO9 Dave Roberts
'North Winterton' by Martin Hallett, 009

and a new Pizza Layout in OO9

'Amlwch' OO9 Chester MRC
'Rof35b' Craig Taylor Wrexham Wings MC, OO9
'Cynwyd N Gauge' Gerry & Jema Byrne
'Sandside' N Gauge John Parkinson
'Coed Helen' Nn3 by Ian Coe
'Roarkes Landing' HOn3 George Woolnough
'West Ridge' MT Hon4 George Woolnough
'Amlwch' N by John Farrell Chester MRC
5.5mm Display Peter Blackham
Crazy Anna Mine, 5.5mm, Francis Stapleton
'Forest Green' Rob Wish
'Underground Ernie' Norman & Shelia Beaumont
'Francis Road Halt' Peter & Toby Hollis-Jones
'Portfadog' 5.5mm Peter & Toby Hollis-Jones
'Mary Jane's Mushroom Farm Martin Rich Gn15
'Wood Street' Swindon MRC, John Stevens 0 Gauge
Chris Mackenzie Two Mini Layouts SM32 –
'Walmer Bridge' Derek Pratt 32mm
Other Displays
009 Society Publicity Stand
Historical Narrow Gauge Railway Parts
Books & Bala Lake Railway Shop
Great Little Trains of Wales Display
A Demo Table from the Railway Modeller Magazine
A Demo Table from the Hornby Magazine
A Demo Table from the Modelrail Magazine
Ffestiniog Railway Publicity Stand
Fairbourne Railway Publicity Stand
Talylyn Railway Publicity Stand New
Gyn Valley Tramway
Confirmed traders
John Sutton Models & Books
Country Park Models
Amberley Services Tools & Engineering Parts
North Road Trains Bargains in N & 00
Ffestiniog Railway Retail Shop & Books
TIMPDON Chris MacKenzie, models trade and mini layouts
ABC Model Railways T to G Scale New & Pre owned, T to G scale
John Parkinson Books & Paintings
T Gauge Range of Models & Layout
Peter Blackman 5 Inch Gauge Models & Display
Dave Angel- A Range of Early Tri-ang & Hornby
David Lindfield, Model Rail Baseboards
More layouts and traders will be added to this list as we get confirmations and details.
Railway Timetable