August 2013 Update
August is a traditional holiday month, and the railway has been very busy indeed. The (mostly) fine and dry weather brought a distinctly healthy increase in the number of visitors to the railway, which is renowned for its beautiful lakeside vistas. Passenger numbers for last month were 19% up on August 2012.
But much has been happening behind the scenes at Llanuchwllyn.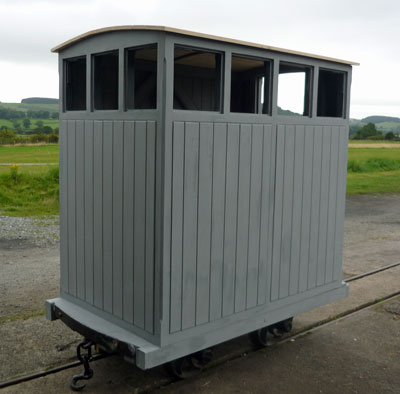 The Padarn brake van is now all but complete, and the accompanying photo shows the almost finished article resplendent in primer coat. The final colour will be rather similar, that is Admiralty Grey all over, and in an eggshell finish so as not to look too shiny! The chassis metalwork will be painted in black. Only the door remains to be finished, and as previously mentioned, the renewed lower section is requiring careful attention so as to blend seamlessly in to the restored upper section.
The restoration of Winifred continues. The wheels are away being regauged, the three quarters of an inch difference being critical. In the meantime, her frames are slowly being reconditioned. The new frame stretcher for the rear coupling has now been cut by water jet, and will be fitted soon. So, while she may look decidedly denuded in her currently boiler-less state, progress is nevertheless inexorable.
The carriage shed extension, where the rake of restored slate wagons is housed, now has a complete and painted wall and roof. The timing could not have been better, as the work was done in fine and dry weather, thus is now ready before the effects of winter can interfere.
Chilmark, the restored Ruston & Hornsby diesel shunter, is still awaiting the installation of her air compressor. But this is not a priority at the moment, and because of the increased traffic last month, the team has had more pressing commitments. But this installation will be dealt with as the 'season' declines.
---