September 2013 Update
For a small preserved railway with only three permanent staff, there is always a lot of activity taking place, and this is working hand in hand with the perennial enthusiasm of volunteers, who cover a myriad number of skills.
Heritage Rolling Stock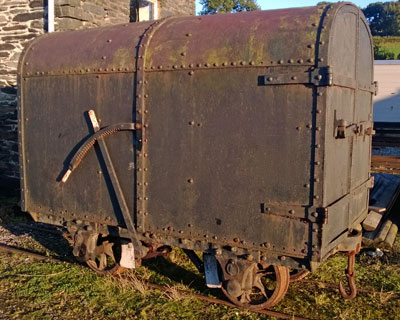 One weekend in mid-September was most noteworthy at Llanuwchllyn, as Julian Birley had been busy. The first fascinating item to appear (from Llanberis) is the a surviving gunpowder wagon from the Oakeley Quarry near Blaenau. (Incidentally, an excellent history of the quarry, named after the landowner, WE Oakeley, can be found on Wikipedia athttp://en.wikipedia.org/wiki/Oakeley_Quarry). This wagon was used for transporting explosives around the quarry when blasting for slate. While this almost unique piece of rolling stock (only one other exists) is complete and on display, it will join the queue for total restoration by the BLR Carriage and Wagon Department. Some remedial work needs to be done to the metalwork, followed by replacement of the interior protective wooden panelling. To compliment this singular new addition, a collection of genuine (empty) explosive boxes has been sourced.
While 'Alice' has her rake of restored slate wagons, thoughts have turned to what would suit 'Winifred' when she re-enters service. To this end, the Moseley Trust at Apedale, near Newcastle-under-Lyme, heard about what the BLR was trying to achieve, and has very kindly loaned their Penrhyn Quarrymen's Coach 'O', which duly arrived the day after the gunpowder wagon. This four wheeled open coach, which is in remarkable original condition, was built at the Penrhyn Quarry workshops, and entered service on 30th December, 1905.
Other Acquisitions
Our good friends at the Llanberis Lake Railway have done a deal with the BLR whereby, in return for five restored Dinorwic slate wagons, they have kindly bequeathed an original bronze steam manifold for 'Alice'. This is such an intrinsic part of the 'look' of a quarry Hunslet that, when fitted, Alice's allure will be greatly enhanced!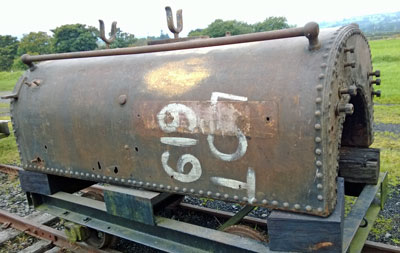 In addition to the manifold, and arriving with the aforementioned gunpowder wagon, the BLR has acquired a riveted Hunslet saddle tank, which failed to sell at auction in 1969, when the Dinorwic quarry closed. This tank even has the original lot number painted on the side, as visible in the photo. Rob Houghton has done some inspired detective work on this item, and concludes that it is the original tank from Hunslet no. 492 / 1889 'Enid', which, incidentally, was renamed 'Red Damsel'. (By way of slight digression, 'Red Damsel' was later fitted with a cab, re-named 'Elidi'r, and operates today at Llanberis). Understandably after 44 years, the tank is not entirely watertight (sic), and will thus need some careful attention. But it is an original artefact, which will eventually take its place in the growing collection at Llanuwchllyn.
Padarn Brakeman's Van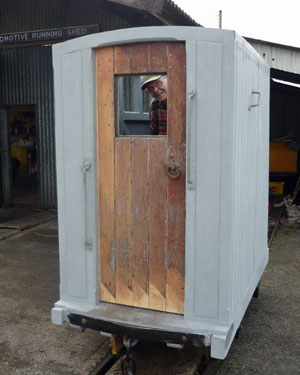 Work on the final stages of painting the Brakeman's Van progresses well, and the wagon should receive its final top coat of Admiralty Grey soon. The accompanying photo shows the ingenious marriage of old and new wood for the single door, as mooted last month.
Driver Experience
Russell Prince reports that September was a busy month, and as this aspect is a new 'product' for the BLR, the results have been very pleasing. On the 13th of the month, Alan Taylor and his wife Linda came down from East Lancashire. Alan had specified 'Holy War/ as his choice, largely because he had a 5" scale model of her, and wanted to try his hand on the real thing. He was also not new to steam, as he has done driving courses on the East Lancs Railway.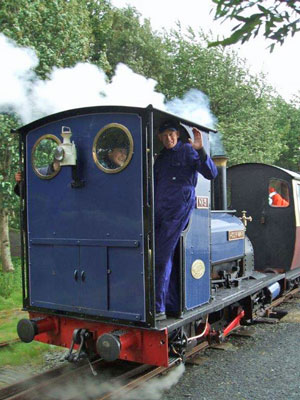 Three days later, Andy Kelly and his partner Jan arrived from Merseyside. It turned out that, professionally, they were more used to putting fires out, as they had both worked for the Fire Services! 'Holy War' was again in steam for this service, but 'Alice' was also in action, thus her movements were carefully planned so as to not disturb the driving course. Andy had a thoroughly memorable day, and Jan's was made too when Julian invited her to take Alice's regulator for a run up and down the loop at Llanuwchllyn. She was heard to comment later that she felt rather emotional, and stated that she was surprised actually to feel the power of the loco through the regulator. A new hobby, perhaps? Julian also arranged for her to 'chase' Andy while he was driving, and a photo shows her at one of the railways many scenic locations.
Andy wrote to us about his day:
To all volunteers at Bala Lake Railway,
Just a few words to express my gratitude for the truly memorable and magical time I had on my driver experience day. I can safely say it was the best birthday present I have ever received. The informal and friendly atmosphere made both Jan and myself feel relaxed right from the start and that really added to the enjoyment of the day.
Hands on is definitely the description I would use, from lighting the fire and polishing a bit of brass work whilst waiting for steam pressure to build, to backing Holy War away from the shed and onto the line to couple up the carriages.
Russell was a great teacher and I was amazed that I was at the controls all day as I didn't know what to expect and thought that it would be well into the day before I got to have a go. I even put Holy War back into the shed at the end of the day.
Thanks to Bobbi for the cups of tea,delicious lunch and afternoon cake, to Julian for allowing Jan to ride on the footplate of Alice and to Patrick for the lift in his car to various points along the line for a different video perspective of the trip.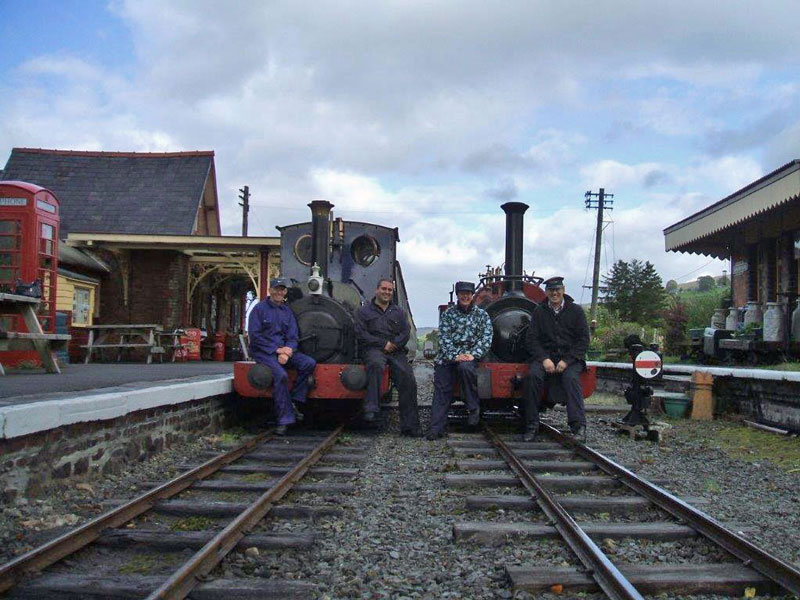 Thank you all again for a Day that I will never forget.
Best wishes,
Andy and Jan.
Incidentally, driving courses can now be booked for next year - possibly ideal as a 'Christmas present with a difference'.Click here for more information.
---