December 2013 Update
December may be a month of temptation to wind down prematurely for the festivities, but not at Llanuwchllyn, where there was much activity. Progress continued and projects needed finishing.
Carriage & Wagon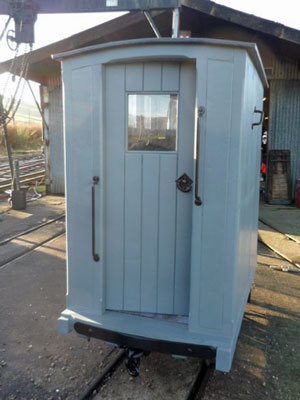 By the time this is read, the Padarn Brakeman's Van will be complete. It has been a long running operation, (most things inevitably are in this context), and it represents a remarkable achievement for the C&W department.
Some of the passenger coaches are being refurbished in time for the start of the BLR 2014 season on 12th February. The Guard's Coach will receive a new side panel, and coach no. 4 is also being given some attention.
Work on the Penrhyn coal wagon will start after the timber has been delivered in mid-January. Bearing in mind the relative size of this wagon when it is complete, a special space has been organised for its construction, as it will need a larger area than usual.
Winifred
Work on this venerable lady progresses slowly but surely. Recent activity has included the boring out of the eccentric straps and tinning them in readiness for white metalling. This may not sound much to the uninitiated, but it is a time-consuming and intricate task.
Alice, Holy War and Maid Marian
Our three working steam locomotives have been stripped down, with boiler washing etc. in preparation for the yearly boiler inspection. Bearing in mind the TLC that these locomotives enjoy, the inspection should be a mere formality.
2014 is going to be a good year!
---