November 2013 Update
As in any aspect of preservation, whether it be railways, aircraft, road vehicles or whatever, a project completion date verges on the fictitious, as there is always something else that merits attention. Boats, however, are a different question, and the word 'boat' is frequently (and most appropriately) viewed acronymically as 'bring on another thousand'.
Carriage & Wagon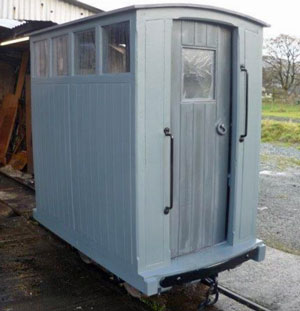 Work on the Padarn Brakeman's Van is nearing completion. The door, so intricately rebuilt as previously reported, is now fitted, and when this is read, will have been painted. Likewise, the interior is now complete, and the glazing has been done in polycarbonate. Shortly, the roofing canvas will be attached.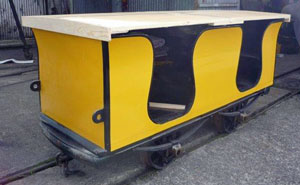 The C&W department have constructed a very neat wooden cover for the Royal passenger wagon, which is on loan from Penrhyn Castle. While this special wagon (one of only three) lives in the warmth and dryness of the main loco shed, it was felt that a proper solid cover would be worthwhile for better protection, not least from the irreverent attentions of some yearly visitors, who find the loco shed an irresistible summer home!
Our third photo shows the daunting starting point for the reconstruction of Penrhyn Coal Wagon no. 1, and suitable timber is being sourced. At the moment, the C&W team have a photo and some drawings to work from, but in view of their previous successes, we can look forward to a totally accurate recreation in due course. Watch this space!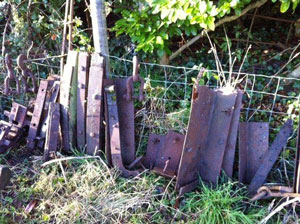 Winifred
The main news this month about this venerable lady concerns the re-gauging of her wheels. Initially, it was thought that the usual process of heating the wheels and tyres, then moving the tyres three-eights of an inch outwards would have been the logical solution. But as Winifred was built in 1885, there was obvious concern about durability and possible damage. Thus Boston Lodge suggested that making new axles would be a much better and risk-free option, as considerably less force is required to extract the old axles than in trying to move the heated tyres. We hope to report soon that Winifred's frames are reunited with her wheels again in the near future.
Permanent Way
The recent Working Weekend was a resounding success, and the decidedly onerous and time-consuming task of replacing 51 sleepers was completed. This naturally included re-packing the ballast. Time was also found for a serious session of tree clearance and branch pruning in the area around Llangower, the halfway stage on the line.
In readiness for the 2014 season, 250 new sleepers have just been delivered, most of which will have been fitted before the start of next year's operations.
Chilmark
Since the last report, it has been decided that Chilmark's 'new' engine will retain its pistons, but will be fitted with a brand new set of rings, rather than swap the 'piston and ring' sets from the old engine. When this task is completed, and she is refitted with her recalibrated pump and injectors, she will be virtually ready for service.
There must be something about 3-cylinder diesels, as one diesel-minded volunteer has just acquired a similarly engined diesel car for aural comparison!
Alice, Holy War and Maid Marian
Mention should be made that these three characterful engines continue to provide perennial service, and are a constant delight to all who see, smell and ride behind them. The thought of five Hunslets, including Winifred and George B, in steam is a wonderful prospect. One day.
Postscript
As the next news will be written next year, (how soon it comes round), herewith sincerest seasonal wishes to and from all concerned and involved with the Bala Lake Railway, management, volunteers, whoever. Everyone matters, and everything is appreciated.
---