May was a good month for the railway, a very good month. Our numbers were up by 20% over May last year, and we are now virtually level-pegging for the year with our best ever in 2017. This has been helped by two busy Bank Holidays in the month as well as a very large dose of genuine Welsh sunshine, (not the liquid variety), plus we had the strange situation where winter changed straight into summer without bothering with spring. Perhaps we were busy on the phone when the seasons changed.
---
The major event of the month was the big Bank Holiday weekend where we were not only running double train scheduling alongside the yearly Festival of Transport, but it all tied in with the annual Model Railway Show held in Bala School.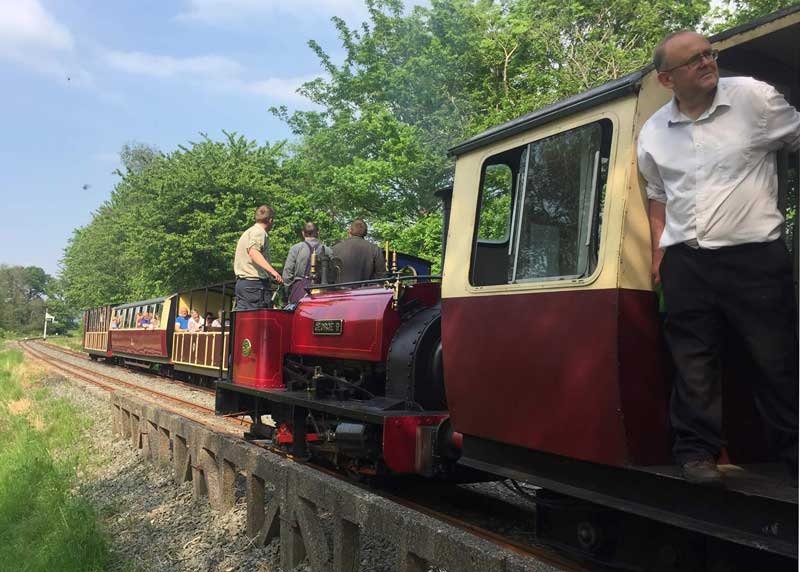 The Festival of Transport saw the usual wide variety of machinery and crafts on display and demonstration, with the usual accompanying subtle aromas. This was well attended as usual, and even a huge downpour on the Sunday afternoon did little to dampen the atmosphere. Our stalwart loco crews on their open cab locos carried on as if nothing had happened, exactly as the quarry drivers would have done in Dinorwic and elsewhere more than half a century ago.
The Model Railway Show was a resounding success, with the number of visitors being two and a half times that of 2017, albeit with the show spread over three days this year. There were over 30 layouts on display, and the sheer variety and diversity of layouts in varied scales was enough to tempt anyone to get into this pastime, all prompting much favourable comment about the different themes and, in particular, the quality of the layouts which had been brought from far and wide.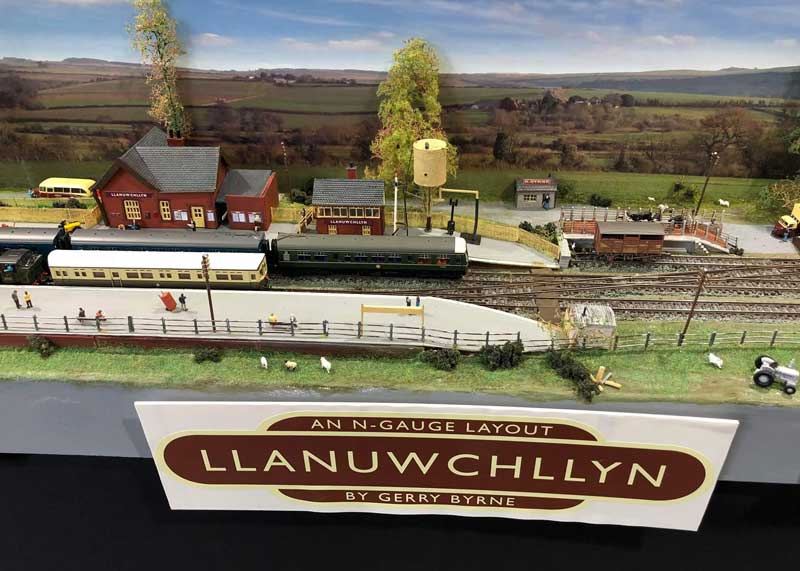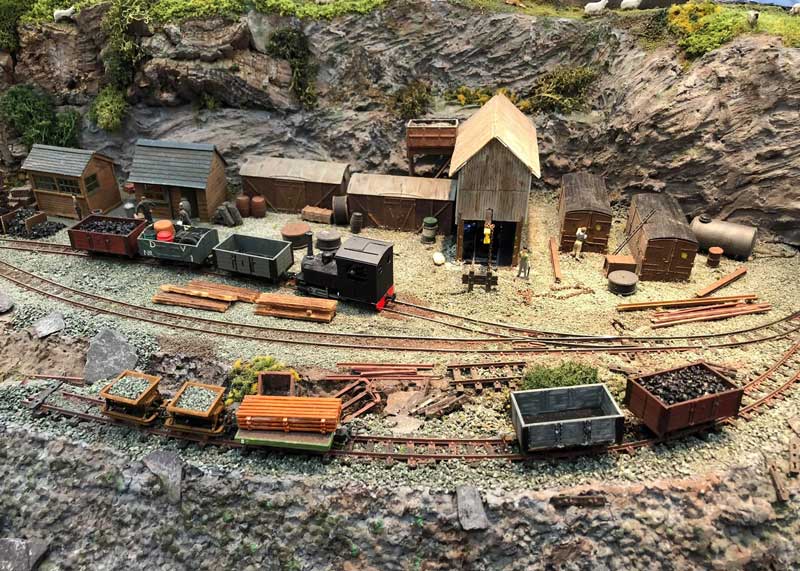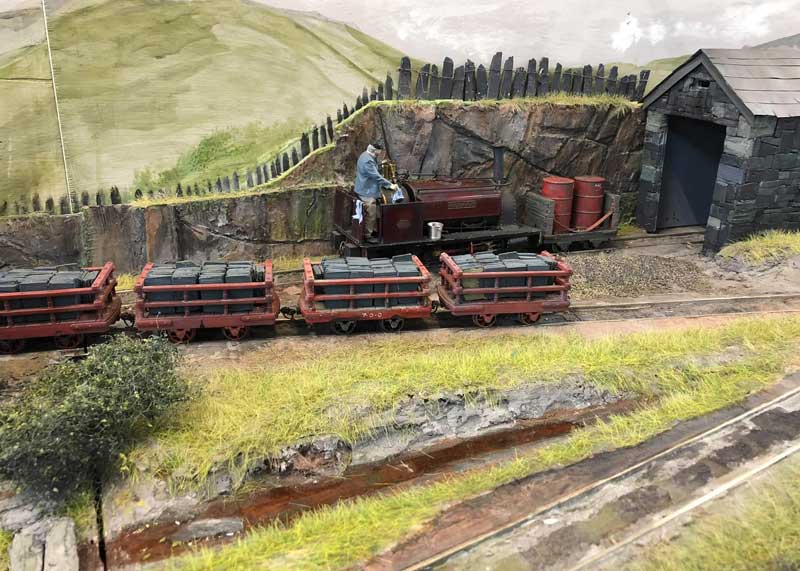 Tony Hill had come up from Folkestone with his 16mm scale slate diorama, and others had comes from as far afield as Chester, Birmingham, Newcastle and Scotland. One couple, Gerry and Jenna Byrne, had journeyed from Ireland (again) with a beautifully detailed layout of what Llanuwchllyn looked like in GWR days, and our photo below shows them with our own John Roberts who worked for many years at Llanuwchllyn and other stations in the area in the standard gauge era.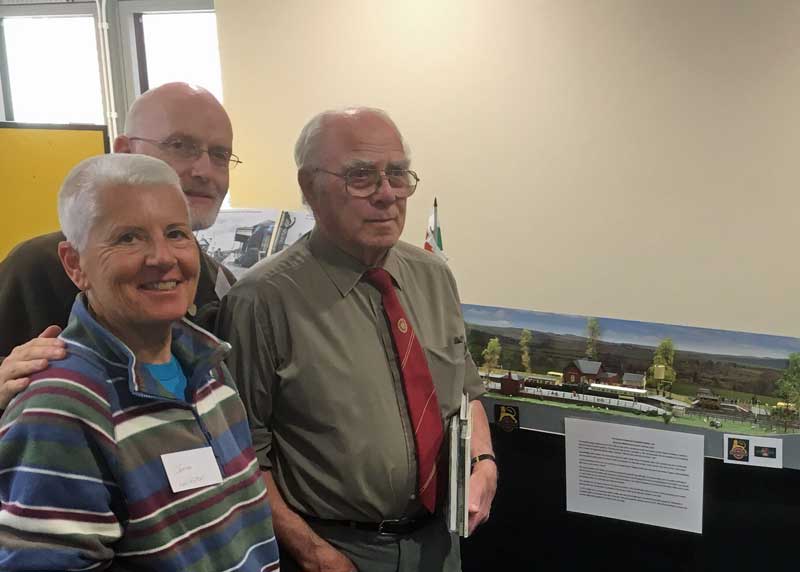 Also to be seen in increasing numbers were what are termed 'boxfile' layouts, two being shown by the BLR engineer, Dan Laidlaw, where a tiny layout is built into the parameters of an ordinary boxfile, but with no loss of detail. Julian Birley showed his latest split-level slate quarry display which ran automatically and to perfection, and which, for transport, divides into two, the two halves then clipping together on pegs and dowels to form of a convenient box for ease of transport.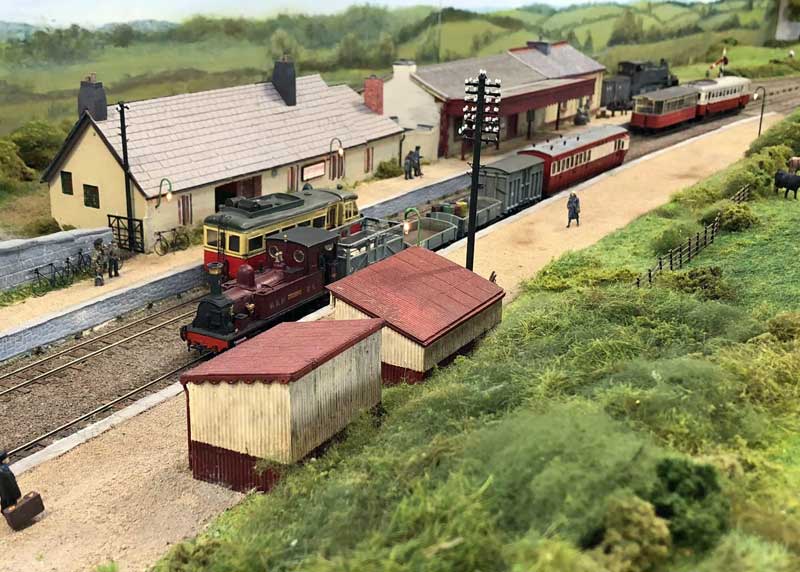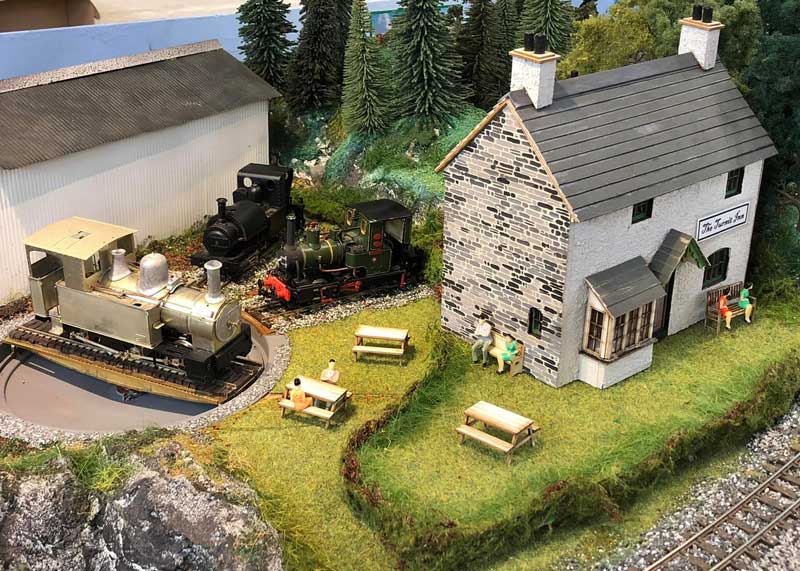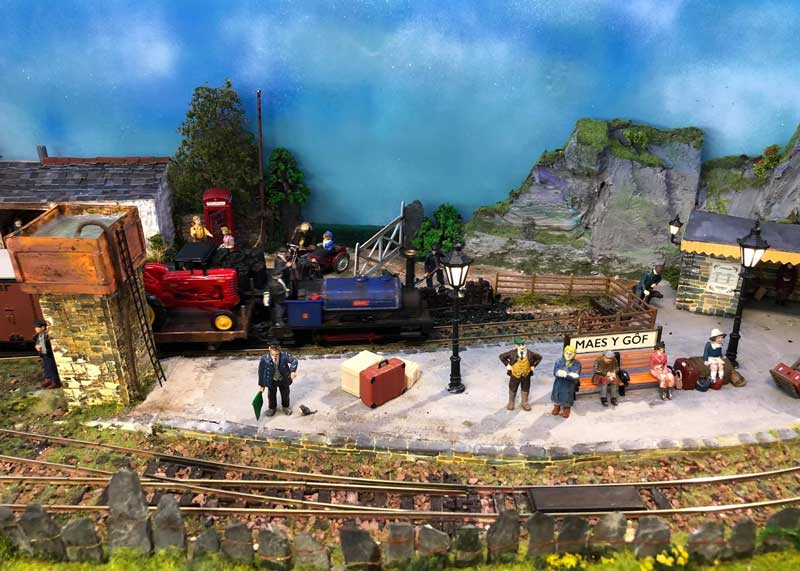 It was without doubt the best model show yet and we express sincere thanks to not only all the exhibitors but also, in particular, to Richard and Judy Wallace for all their efforts in bringing together a fantastic range of layouts, and to Barbara Cooper and her team of helpers for running it so efficiently over the weekend.
---
The news on Locomotives this month revolves around, firstly, Maid Marian which now has been united with her new water tank. Our engineering team mentioned laconically that it needed a bit of shoving and persuasion to get it into position but it eventually seated properly.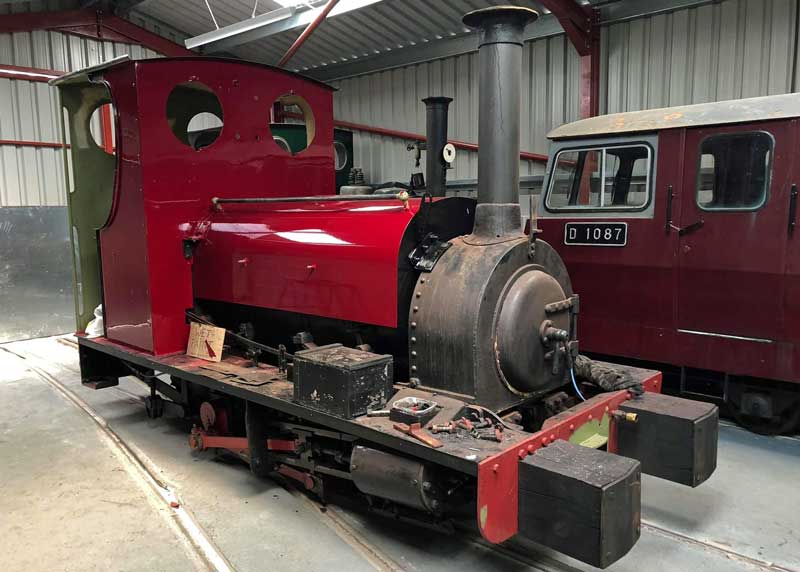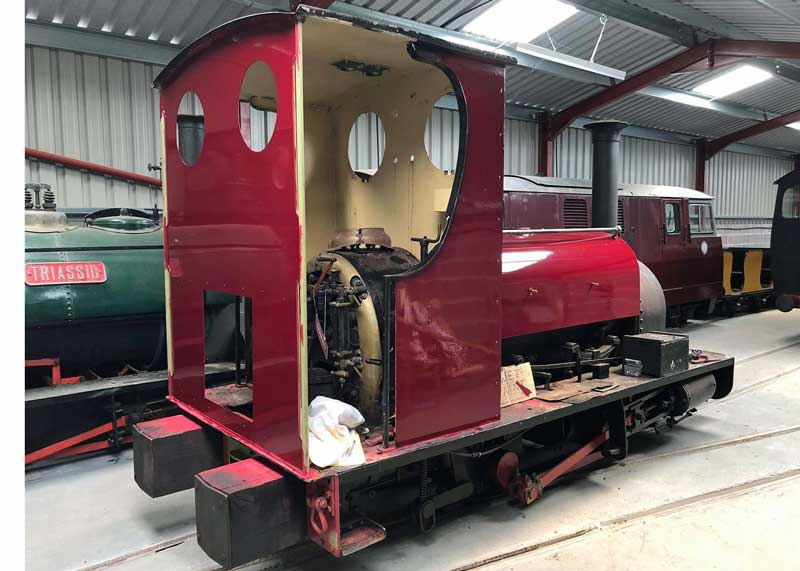 She is currently being repainted, ready for service again, and such is the demand for her return that completing her lining may have to wait, but she will be welcomed back in her 'cabbed' form again.
Our number 2 diesel, Chilmark, is still suffering from her injector pump timing-gear problems. The top pair of bevel gears were removed easily and found, with the locating 'keys', to be badly worn. But getting at the lower pair, which takes their drive from the back of the camshaft, necessitated removal of her (very heavy) engine, and the wear was found to be considerable, which means new gears will have to be manufactured specially. As soon as the replacement items arrive, our team of Rob and Dan will attack the issue, and they are not the only ones who will welcome her back into service.
---
The Carriage & Wagon team have been making steady progress on the new signal cabin at Llangower, which is nearing completion. The roof has been constructed with ply wood, on to which will be fixed proper Welsh slates. Originality is the key.
---
And finally….. it will be Gala time again in June. From the 16th to 18th, we will have a Penrhyn Quarry theme with our own Winifred joining forces for the first time since leaving the quarry with her Penrhyn 'twin', Gwynedd, as well two other ex Penrhyn locomotives, Hugh Napier andMarchllyn.
From the 19th to 21st and then 23rd and 24th June (but not 22nd), the BLR will be operated by visiting guest engines as we are lending all our Hunslet locos to the Ffestiniog Railway for their Hunslet Gala. The 'guest' locos will include Palmerston visiting us from the Ffestiniog Railway which, incidentally, will be the first tender loco to haul a passenger train on this stretch of line since mainline days. Full details are available on our 'Special Events' page. Likewise, it is possible to combine the best of both worlds and call in to see our visiting locomotives en route to the Hunslet 125 event in Porthmadog on the 21st or on the way home on the 24th. This is going to be a week to remember.
---