Having experienced the longest spell of warm and dry spring weather on record, plus a cruelly-timed and debilitating virus to shut the country down, you might imagine that frustration would be to the fore, but those within the BLR are always thinking of ingenious ideas, as you will read later.
In the meantime, those that live nearby and in the village of Llanuwchllyn have been taking some of their regular walks around the railway to make sure all is well. Indeed, Chief Engineer Rob Houghton has been occasionally popping in on his way past to check in on the loco and carriage sheds, and took the featured photo of spiders' webs in the sunlight. May their removal come soon.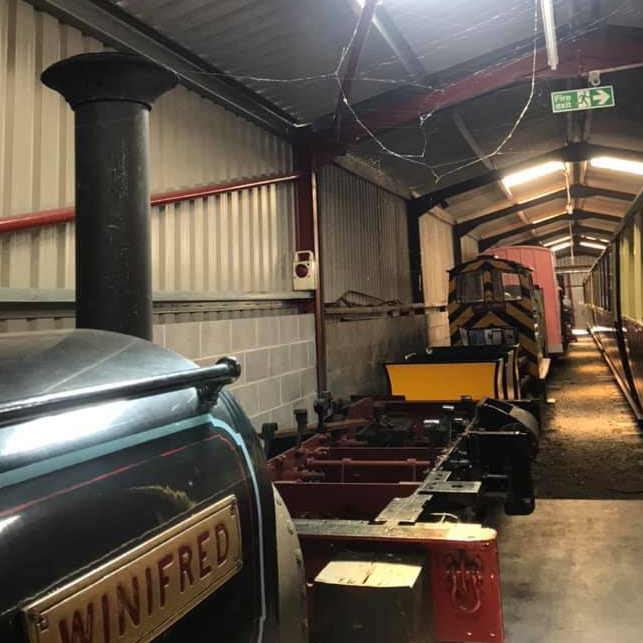 ---
The BLR Covid-19 appeal, we are delighted and grateful to acknowledge, has now passed £10,000, a magnificent figure and a testament to the generosity of our supporters, volunteers and friends. We can only extend our sincere thanks to all for this generosity and hope that it may continue to prove positive in the future as the nature of the Heritage Railway business is one of hospitality, thus probably one of the last to be able to function when given the 'green light'. In the meantime, the railway is looking at ways to adapt its operations when the time comes in order to keep within the distancing guidelines.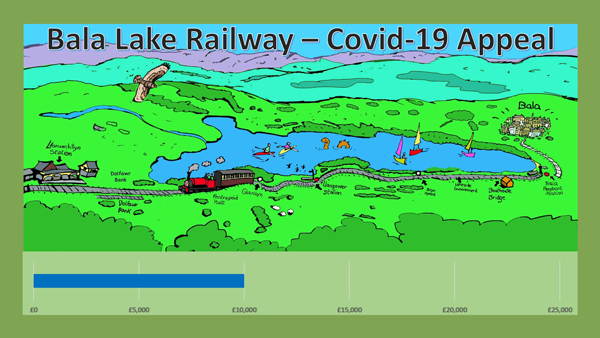 Much has been happening on Facebook, including word puzzles relevant to the BLR as well as photo/caption competitions, but the big news this month is the launch of The Bala Lake Railway Virtual Gala on 13th June. Please click here to go to the BLR Virtual Gala page on this website, or click here to go to the online Shop. It is simplicity itself.
On the 13th June, there will be approximately 4.5 hours of film footage from BLR Galas in the recent and distant past, of which there is huge variety, all scheduled on a planned timetable. There will also be archive video footage and photos of the BLR in its infancy as well as Llanuwchllyn Station minus any track. As regular readers know, there are many garden railway experts among the BLR teams and these will feature as well.
Our new online Shop is already launched and you will be able to find all sorts of 'virtual' items to buy, ranging from drivers' cake or a bacon sandwich to a virtual 'Driver for a Fiver'. One remarkable item on sale, real not virtual in this case, is a coffee table. What is this doing in a railway shop, we hear you ask. Actually it is a genuine carriage or loco buffer made redundant by the move to chopper couplings, but in an ecstasy of creativity, BLR Director Julian Birley has turned his into a very stylish coffee table. Anyone can have a table with an engine block of some vintage as support but a genuine buffer is very special and there are a limited number 'in stock' to meet demand. Of course, if you are looking for a spare buffer for your carriage, this will also fit the bill! Again, visit the online Shop for further details.
All these fun items, and indeed the whole Virtual Gala, are to raise funds for the railway in these troubled times when there is no income whatsoever, so please go our website, get started by purchasing our guide for £5, and enjoy a fabulous volume of film footage – from the comfort of your armchair!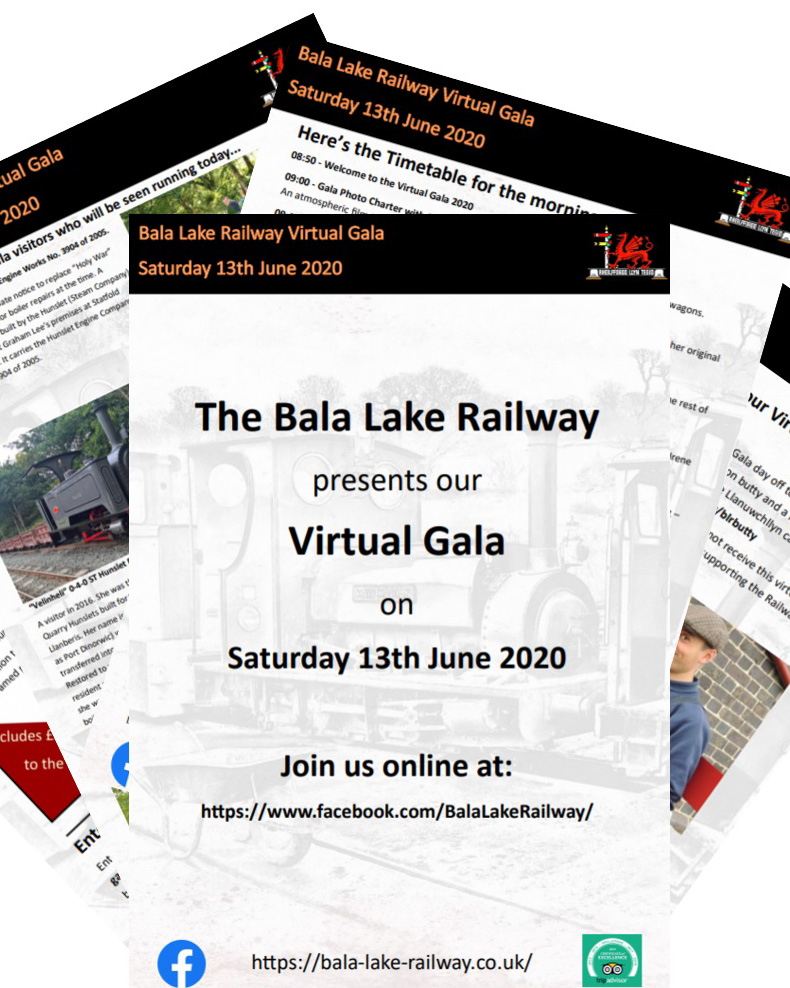 How did this all come about? To put a human slant on this inspired project, we go back to a perfect example of Heritage Railway co-operation and the initiative of the people who have created this magnum opus. Regular BLR driver and IT expert Tim Gregson happened to be chatting with a friend on the Romney Hythe & Dymchurch Railway who mentioned that they were planning a virtual gala and said, "Why don't you do one?", which is typical of the camaraderie of the Heritage Railway community. Tim knew just whom to contact and got hold of Ben Nelson, another regular BLR driver who just happens to be not only a very good photographer but also a professional sports cameraman, and whose editing skills would be invaluable. Ben duly co-ordinated the numerous bits of film footage that were sent in plus the major task of not only finding other videos but also seeking permission for their use from the owners. After that, he set about creating the timetable and editing nearly all the footage into a cohesive whole. Tim, in his role as 'project manager', started pulling everything together, editing the Guide and keeping Facebook up to date. He also contacted Tim Williams, another BLR regular and fellow IT expert, and all three threw ideas around before the final format of the Gala was reached. Messrs Gregson and Nelson did the Gala video footage with Tim Williams creating the online shop, and as you will see, they have become a formidable team. It is interesting to note that all three are garden railway creators and/or inveterate modellers, thus they know exactly what they want to achieve and, in this instance, what will appeal to a much wider audience.
Please take a look at the BLR Gala page on this website or our Facebook Page and with your purchase of the guide, you will be visiting Galas from recent times to way-back, plus run-pasts, multi-headers (a BLR speciality) and all sorts of other goodies. As the weather may well have turned, our Virtual Gala on the 13th June cannot come soon enough. It is time to revel in nostalgia.
---
And finally……… or for something completely different, we mentioned last month that a Chinook helicopter from the RAF flapped past Winifred and her second service on the day of her introduction on the BLR in April 2015. Such was the enthusiasm of some of the RAF crewmen that they were waving while on harnesses and hanging out of the back on the loading ramp. While the day was overcast, it certainly heightened further the fun and atmosphere of the occasion.
The RAF uses Bala Lake quite regularly for training, reconnaissance and other reasons including flying low over water where it is notoriously difficult to gauge altitude, thus it is not unknown for fast jets to scream regularly over the station and along the lake. But in May, we had what turned out to be an unscheduled visit from a Chinook which was on a normal reconnaissance flight when the craft had to turn round and land rapidly in a field next to the village. Speculation was rife among the village residents who witnessed this noisy arrival, cameras were primed and the farmer went over in his farm 4x4 vehicle to offer help. The pilot had chosen his landing spot with great presence of mind as there was no livestock in that particular field.
No assistance was needed and it turned out that the aircraft had encountered a minor bird-strike which would have set off a lot of engine warning lights, hence the precautionary emergency landing. After prescribed safety procedures and tests had been carried out, all was found to be well and the Chinook duly departed, as captured by BLR Director Julian Birley who witnessed the whole event from his vantage point above the village. Inevitably, a local humourist muttered as to whether the Chinook's journey was essential!
It is interesting to muse that a Chinook came to watch us and Winifred in 2015 but on this occasion, thus redressing the balance, we came to watch a Chinook. Do click on any of the pictures below to view a larger image.