Lockdowns – nothing! With varying restrictions in December throughout the UK, the amount of work carried out by staff and volunteers during the first three weeks of the month was nothing short of staggering. As this is written post-Christmas, with newer and more stringent restrictions in place for the next few weeks, we can reflect on a month where a remarkable amount of maintenance and remedial work was carried out with the help, as always, of our loyal band of volunteers. Over one short period, no fewer than 21 people, both male and female, were busy, including directors and 'new recruits' who had been inspired to help after attending the annual Volunteers Day. We have a very loyal team. The month's tasks were carefully co-ordinated by General Manager David Jones to maximise talent to the full.
---
Without going into copious detail, we list below the very varied but all essential jobs that were completed, and all this in circumstances where help was so difficult to arrange.
At the beginning of the month, Chief Engineer Rob Houghton set about with gusto to cut to size and pre-drill for rapid installation a big delivery of fresh sleepers which was recently received. As we mentioned previously, the engineering team constructed a simple metal template for hole-drilling, thus saving considerable time. The sleepers were loaded on to wagons and moved to site within a day or two, so quickly in fact that one observer was heard to wonder if they had been stolen!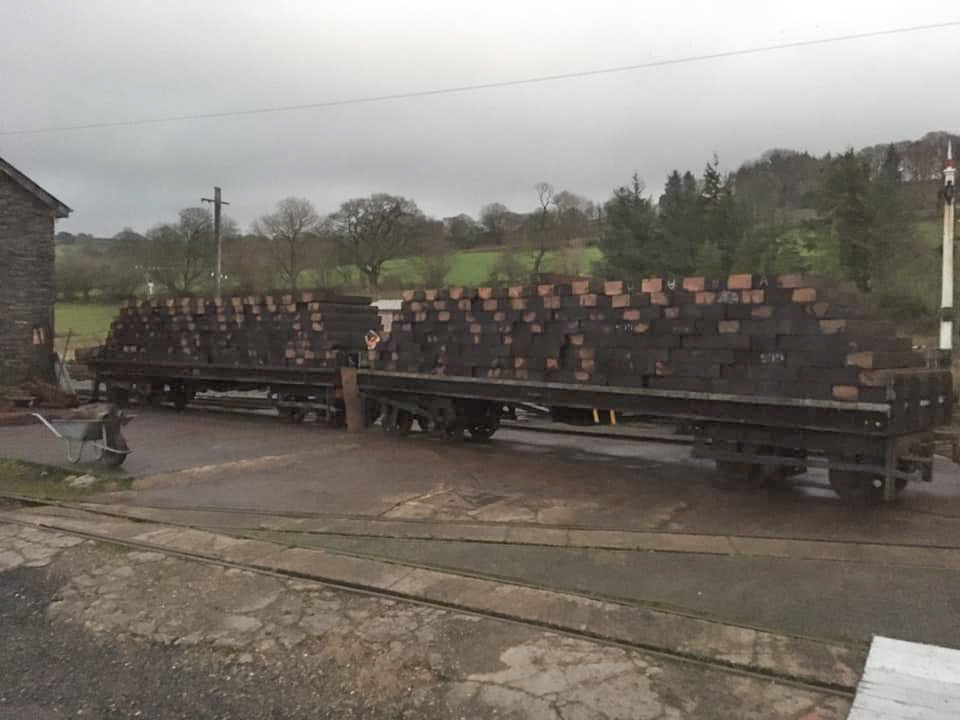 While this was happening, the main guard's carriage (no. 8) that had been stripped to bare frame, had its chassis painted in Ford black, and the body framework primed with oxide paint. Modifications have been made to the framework so that doors can be fitted to both sides for future operation when the extension is completed into Bala Town. After the Christmas break, the new outer panels can be fitted and the rest of the bodywork applied.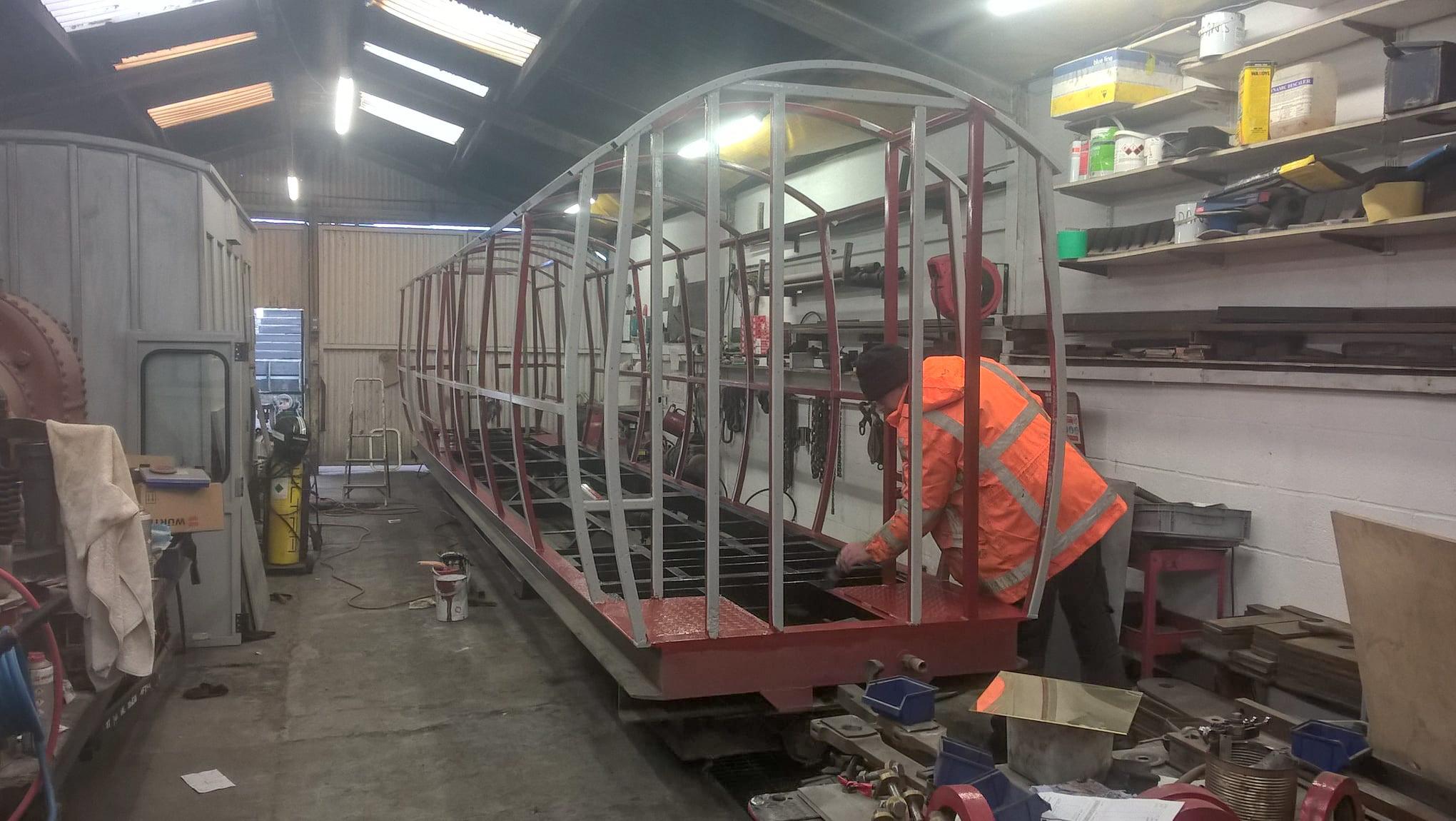 The engineering team, Rob Houghton and Dan Laidlaw, was busy a few days later with three locomotives. The 10 year strip-down of Alice has now started and she was soon down to her frames, awaiting amongst other things the eventual fitting of her brand new boiler. As the old one has plenty of life left, her owner has shrewdly decided to sell it where it will be of great use rather than scrapping a piece of Hunslet history.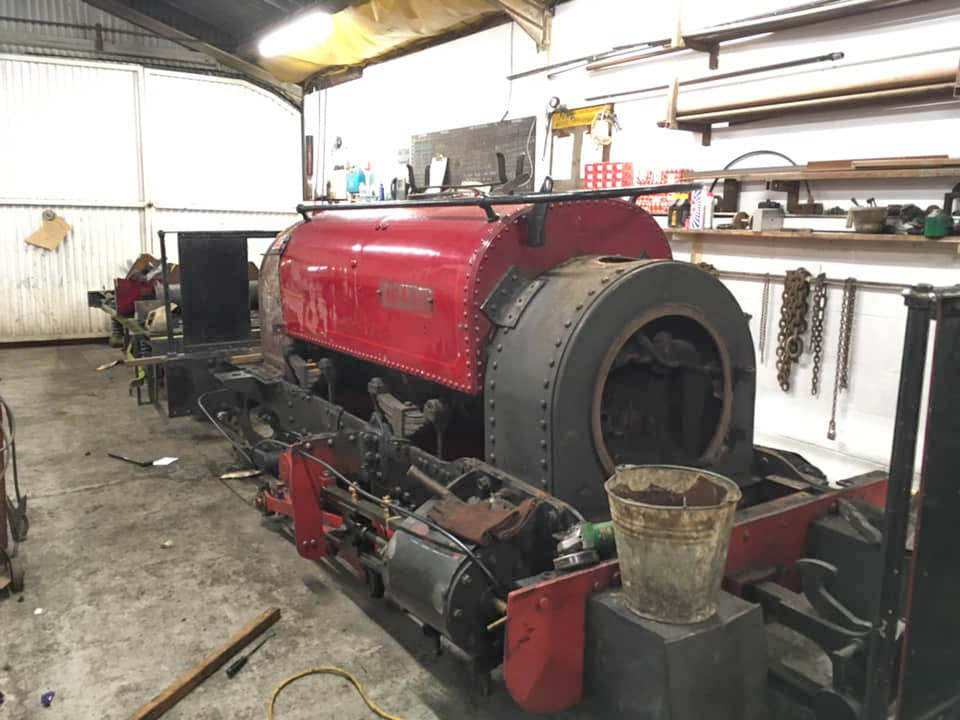 At the same time, the team was busy rebuilding the motion bearings on Holy War so that her reconstruction can continue apace.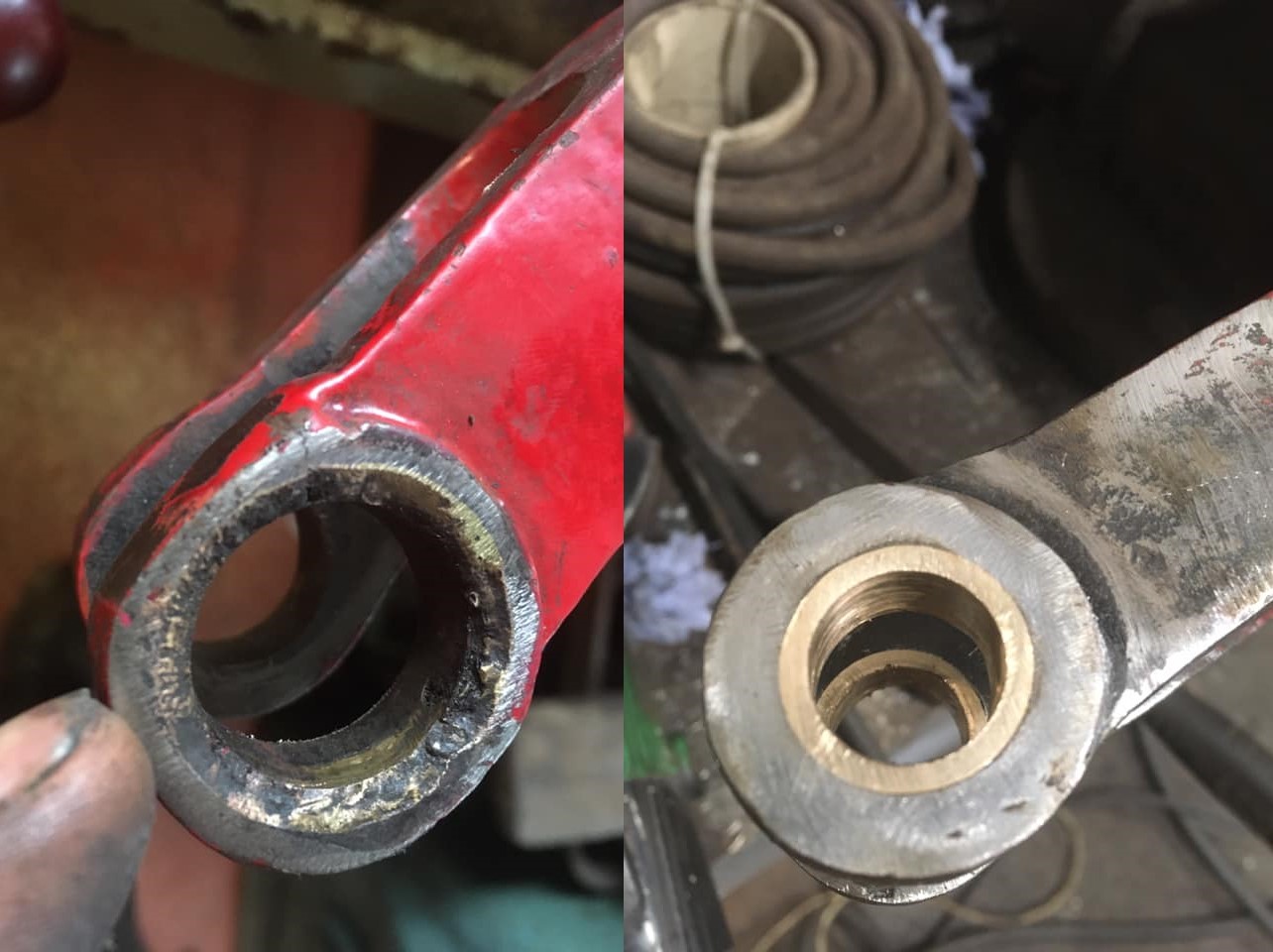 As if that was not enough, George B was being prepared for her annual boiler inspection and steam test.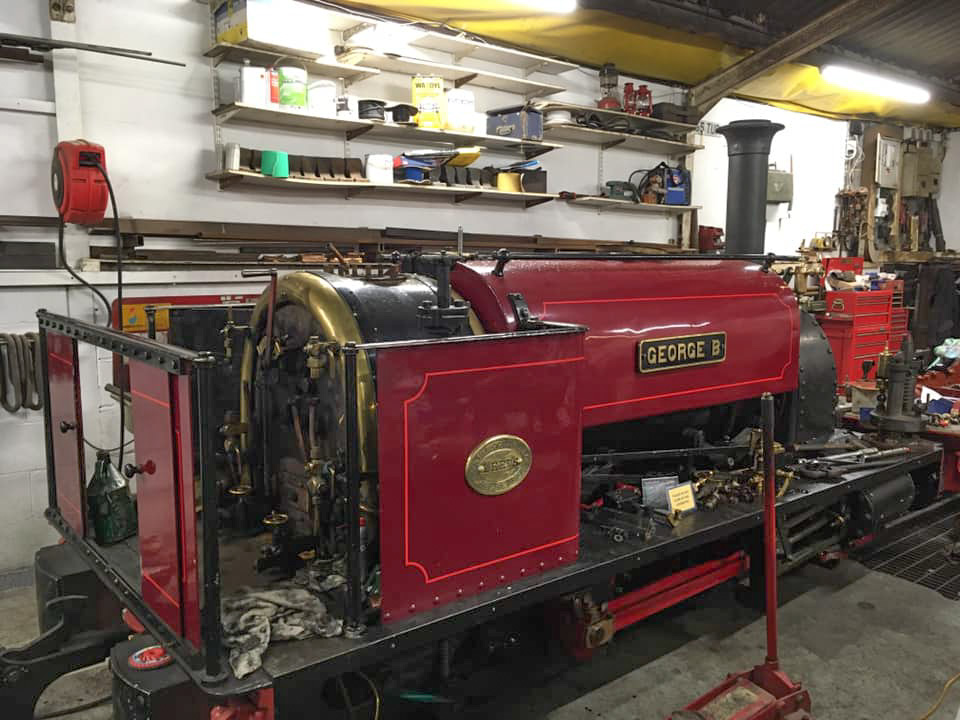 It is common knowledge that parts from Quarry Hunslet locomotives got swapped around at the Dinorwic Quarry. During the stripping down of Holy War, parts from several different locomotives were discovered. How many of these can you identify from the works number stamped on them from the images below?
---
The Wednesday Gang and working weekend produced people, strength, resilience and remarkable success. Over each winter, a section of track is targeted for complete lifting and re-laying, and this year, it was the section near the former Bryn Hynod Halt.
This long-closed halt is located between Llangower and what is always colloquially known as 'the sea-wall', a popular misnomer for the dramatic lake-side stretch of track. It is of interest that there are just over 900 sleepers between this former halt and the eastern end of Llangower loop.
David Jones, in his traditional summation and gratitude, sent the following email to all concerned and it highlights to perfection what was achieved.
We end the year on a high, and what a high! Huge thanks to all.

We started on our sixth track re-lay through the site of the former Bryn Hynod Halt and into Bryn Hynod cutting. Despite many of our regulars being unable to attend due to Covid restrictions, enough of you who could, responded to our call. By the Saturday lunchtime, we had all the track lifted, shaving a few minutes off the previous quickest time set last year. The work continued into the next week and by the Wednesday, we had put down 422 hardwood sleepers and re-laid and spiked 41 lengths of rail. The re-laying was done, and with a day to spare! When the team had a pause in track laying, waiting for the more specialised technical tasks to happen, they grabbed saws and cut back any overhanging branches so that our engine crews will no longer have to duck. Every moment was productive.

Any finishing touches still to do were dealt with by Rob and Dan. We have 'stretched' the rails (actually gapping them properly), so had a six inch overlap which needed to be cut off and new bolt holes drilled for the fishplates. Then the ballast needs to be ploughed back using the ingenious BLR ballast grading implements and the whole tamped using our super-duper new tamping machines.

A huge thank-you is due to everyone who contributed towards getting the re-laying done. I dared to hope, but was not really sure if we could do it, but all 21 of you guys and girls were truly amazing. All in all, it was an extremely productive week of hard work which meant our maintenance programme going into the Christmas break was right on schedule, and despite lockdowns in January, Rob and Dan will have a clear run at the next tasks in the new year.

But I must single out one for high praise. Peter Heywood worked solidly every day from Saturday to the following Wednesday when the last rail was put in place. Peter gave inspiration to everyone and was the driving force behind getting it all done, and he was not going home until it was finished! Thank you, Peter.

Finally, a big thank-you to Rob and Dan, our hard-working staff who are the heart and soul of the railway who achieve so much and put so much time into keeping our railway going and trains in the best condition.
What a team!
---
And finally….. what of Marian, the BLR railway cat over the Xmas period? Pampered pet and cossetted cat are phrases that readily spring to mind as Marian was mostly looked after by our Chief Engineer who lives close by and has two other cats, the trio no doubt keeping his hound, Max, in his place! On top of that, there are two volunteers who live in the village, plus Dan Laidlaw on whose shoulder the cat likes to perch, so Marian did not want for attention and care at all.
Lastly, all at the BLR wish all our friends, volunteers and supporters the very best for 2021. We have a lot to look forward to and, pestilence permitting, we will, with your loyal support, achieve it.