To the unsuspecting, December might be thought to be a very quiet month, but as always on the BLR, a vast amount of activity takes place in the 'closed season', so here is a sample of what has been happening behind the scenes.
Boilers are in the news again, with that of Holy War to receive some extra remedial attention. As we have mentioned previously, Holy War's has been removed for her 10-year inspection, during which it was noticed that one area would need some special repairs, not serious but necessary. This predicament was confirmed by our usual boiler inspector, Rob Houghton, whom regular readers will recall shares the identical name to our own Chief Engineer. A new section will need to be welded into place which will cure the problem, after which further tests will be carried out. We expect total success.
The other boiler news this month is that a brand new boiler for Alice has been completed and arrived in Llanuwchllyn just before Christmas. We will report further at a later date.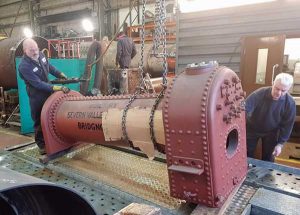 ---
The Santa Specials were, as always, a resounding success and huge thanks go to the numerous volunteers who prepared trains, decorated and installed lights and tinsel everywhere (even the banisters of the signal box steps were covered and one  of our regular drivers certainly took on a new persona for the occasion).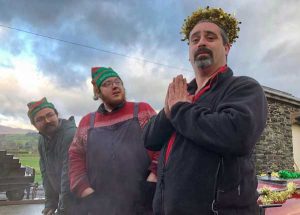 It was a superb piece of work and delighted all who visited as well as those who tuned into our station webcam to capture the atmosphere. There was no snow this year but the sight of energetic elves on the crowded platform whipping up enthusiasm on a wet afternoon was inspiring. We received lots of favourable comments and 5-star reviews in the media.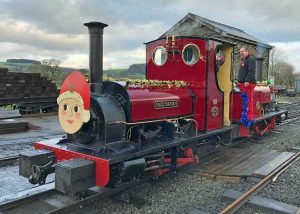 The trains, in true BLR tradition, were 'top 'n tailed' by Maid Marian and Alice which delighted everyone. The loco crews thoroughly enjoyed themselves, in spite of the occasional 'liquid sunshine' conditions and, on occasions, has to be shooed out of Santa's Grotto, such was their seizure of the atmosphere. All the trains were fully booked, which meant that the figures for the month were the same as last year and those for the whole year produced a 6% increase on 2017. In doing so, we broke the 29,000 visitors threshold which made 2018 our best year on record!
---
At the beginning of December, we provided a Special Charter for Inside Track, a holiday company which specializes in railway themed holidays and excursions. A party of 40 was scheduled and the train was operated by Bob Greenhalgh on the regulator, with Dave Rutt firing and Ailith Rutt as guard. Bob takes up the story of the day's events.
The Inside Track round trip took place on Sunday, 2nd December. It was due away from Llanuwchllyn at 10.45 so to be ready meant a very early start. All the crew arrived just before 07.30, Dave had a fire lit in Maid Marian by 07.45 and Ailith, most importantly, had tea ready for us minutes later. This early start was a chance to take a different type of photo of Maid Marian in the early morning light. Two cups of tea later and we were ready, our passengers were all aboard by 10.50, Ailith gave us the green flag and we were away. Unlike normal scheduled services, we ran non-stop through Llangower straight to Bala. Whilst the loco was serviced and ran round, many photos were taken. On the return trip, we once again ran straight through Llangower but this time paused at the little halt at Pentrepiod where we had been asked for run-past opportunities. With more than half the passengers getting off, we carefully reversed to Flag Halt and then ran through Pentrepiod. All seemed pleased and quickly boarded the train for the last stretch back to Llanuwchllyn. Many people came up to thank us and all said how much they had enjoyed the trip which made the early start all the more worthwhile. With the passengers gone, the loco and coaches were put away. After more tea (naturally), it was time for home. It may have been a short day but it was so satisfying.
---
The BLR Website is getting a makeover so please keep an eye out for our new 'look' in 2019, a draft of which has already been seen and it looks brilliant. The two Tims, (Webmeisters Gregson and Williams) have done a fabulous job and we cannot wait to launch it to our public. [This News will be the first to go live on the new website. Ed].
---
One notable item of incidental news in December concerns another donated piece of signal equipment. We reported last month on the arrival of signal posts, but, in addition, another private individual, from the Nantwich and Market Drayton Railway Society who visited the railway in the summer, has donated to us a signal box lever frame. This was a standard GWR frame and was previously installed at Silverdale Junction where the Old Knotty line joined the GWR's route between Nantwich and Wellington. The kindness of people who follow the activities of the BLR is wonderful, and both pieces of equipment will be used in our expansion plans, not only for the Bala Town terminus but also at Llanuwchllyn.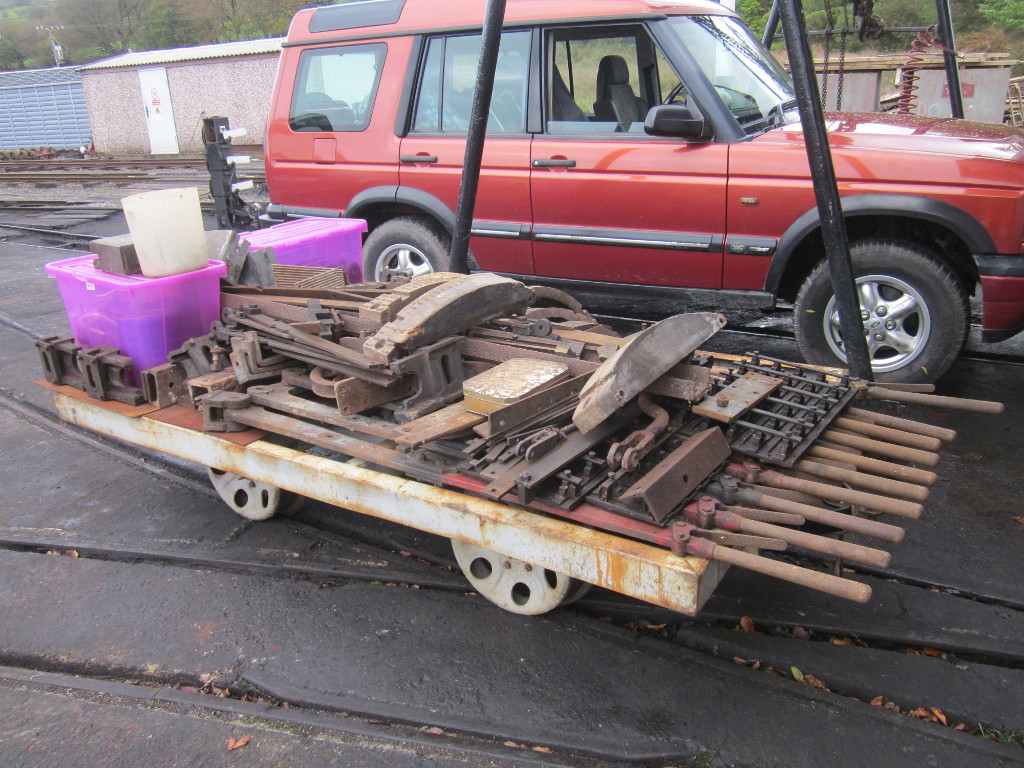 ---
And finally…… we wish everyone connected in whatever capacity with the BLR the very best wishes for 2019. It is going to be quite a year .