July was the usual mixed bag of weather for visitors to the BLR and average passenger numbers might be expected, but no.
Let us just say that the month's figures were a whisker over 26% (yes, 26%) better than our previous highest numbers, those of July 2018. We started with a heatwave and ended with sporadic and torrential downpours but the easing of Welsh restrictions combined with people discovering the delights of Wales produced such encouraging numbers. As of the 7th August, the Welsh Government Covid social-distancing restrictions will ease further, thereby giving us increased capacity in the carriages which, as always, need to be booked on line to guarantee space, tickets being sold by 'bays' in the coaches. August also sees the reopening of Llangower Halt where trains will now stop on request. BUT, facemasks will still be mandatory in enclosed spaces under Welsh law. Nevertheless, it all bodes very well for a very successful second half of the year.
---
The 17th July saw a new and memorable arrival, about which we hinted last month and the following Press Release was issued.
The Bala Lake Railway is pleased to announce the arrival of a Bagnall 0-4-0 ST locomotive Dorothy as the latest addition to our fleet based at Llanuwchllyn. Dorothy was built by W.G.Bagnall of Stafford in 1899, works number 1568, the last of three similar locos supplied to Greaves Llechwedd Slate Mines in Blaenau Ffestiniog.

The two earlier locos, Margaret (no. 1445 of 1895) and Edith (no. 1278 of 1890), were involved in a pioneering conversion project and became two of the earliest electric locomotives to work in the UK, being converted and renamed The Eclipse (in 1927) and The Coalition (in 1930) respectively. Both survive and are currently on display at Statfold Barn.

For a long time, it was rumoured that Dorothy had been the donor loco for The Eclipse but it appears that although the loco was stripped down for some unknown reason, the conversion did not progress further. She remained in this dismantled state for a number of years and although many parts were mislaid, she somehow avoided the attentions of the scrap-man. (We believe that Dorothy was used and laid up on the top level of the quarry which probably contributed to its survival).

Mr R.P.Morris purchased the remains of Dorothy (which were basically the chassis and other smaller parts found in the proximity of the engine which were thought to be from Dorothy) from the quarry in 1972 and these were placed on a wagon in the Gloddfa Ganol Collection.

When Gloddfa Ganol closed, the wagon, complete with Dorothy, was purchased by Mr Brian Gent until she was subsequently acquired by the Selway Family Collection. John Selway and the family continued with the restoration of Dorothy with the invaluable help of the late Mr Alan Civil who was also constructing Pearl 2 at the time, thus a number of items were duplicated at the time of manufacture.

During the following years, many new parts for the loco were manufactured from the plans, including boiler, wheelsets, cylinders, motion work, blast pipe etc. A considerable number were cast to patterns made by Alan Davenport.

Over the years, Eddie Draper at the Golden Valley, Ben Hicks and Will Dakin very kindly helped with progress on the restoration. However, as many long-term restorations do, the project slowed to a halt due to other varied demands of life.

Following a period of inactivity, the Selway family decided it was about time that Dorothy's restoration started again and to this end, a number of enquiries were made to railways around the UK. Following this process, it was decided that the Bala Lake Railway was a most suitable and natural home for Dorothy.

Following the BLR's success in overhauling Winifred, repatriated from the USA in 2012, and the completion of the long-term restoration of George B for the White family in 2017, the completion of the restoration work on Dorothy will be undertaken by the Bala Lake Railway at Llanuwchllyn. Dorothy is expected to remain as part of the operational fleet on the railway for at least ten years and will provide additional motive power for the line when it is extended into Bala Town.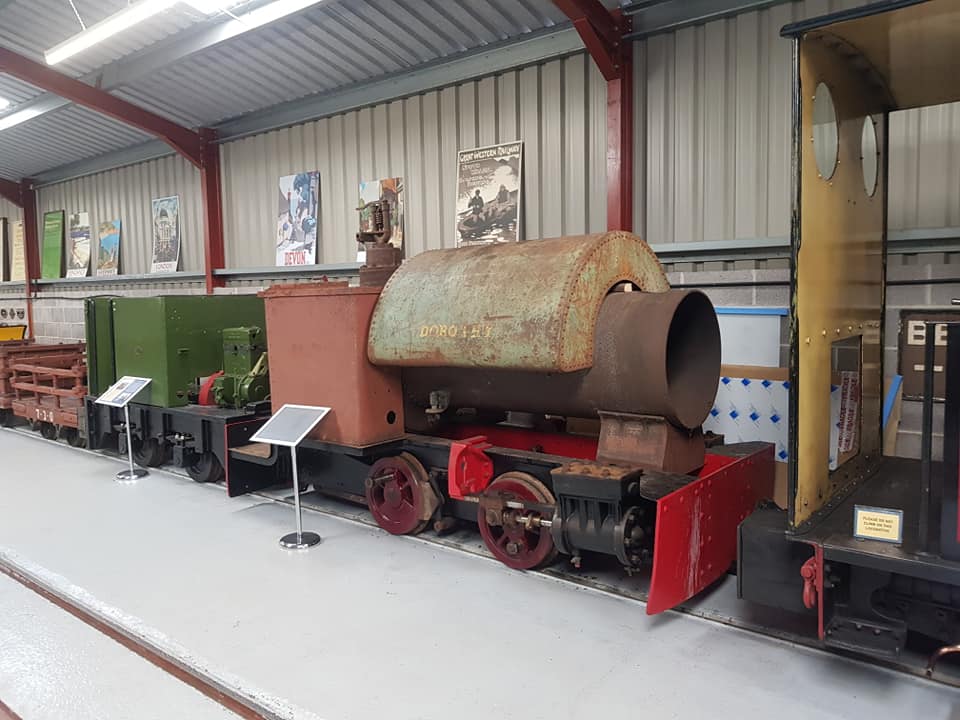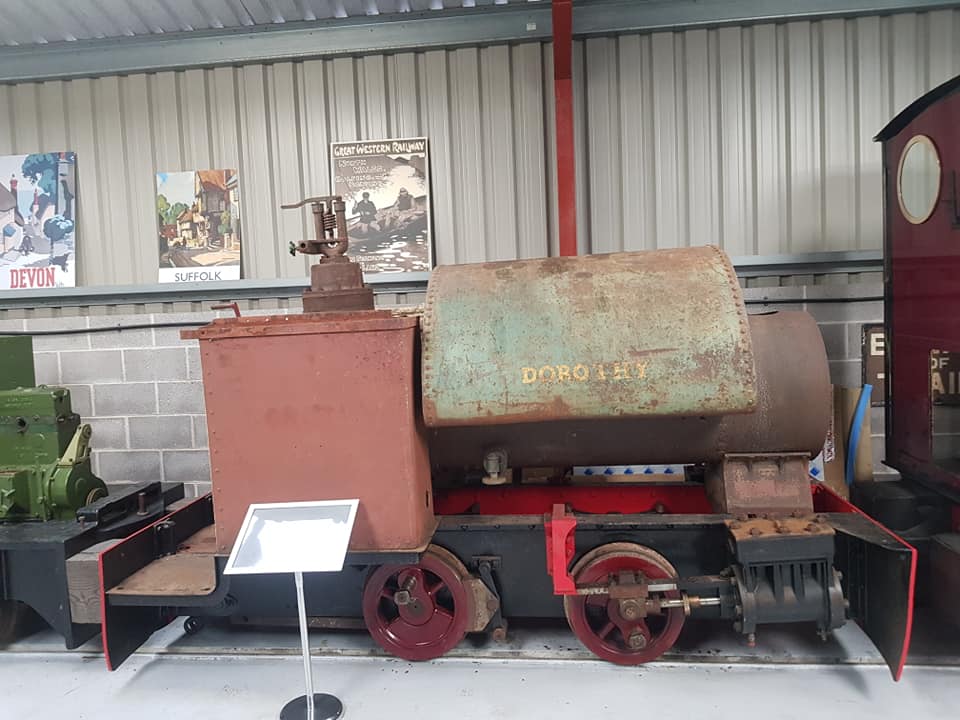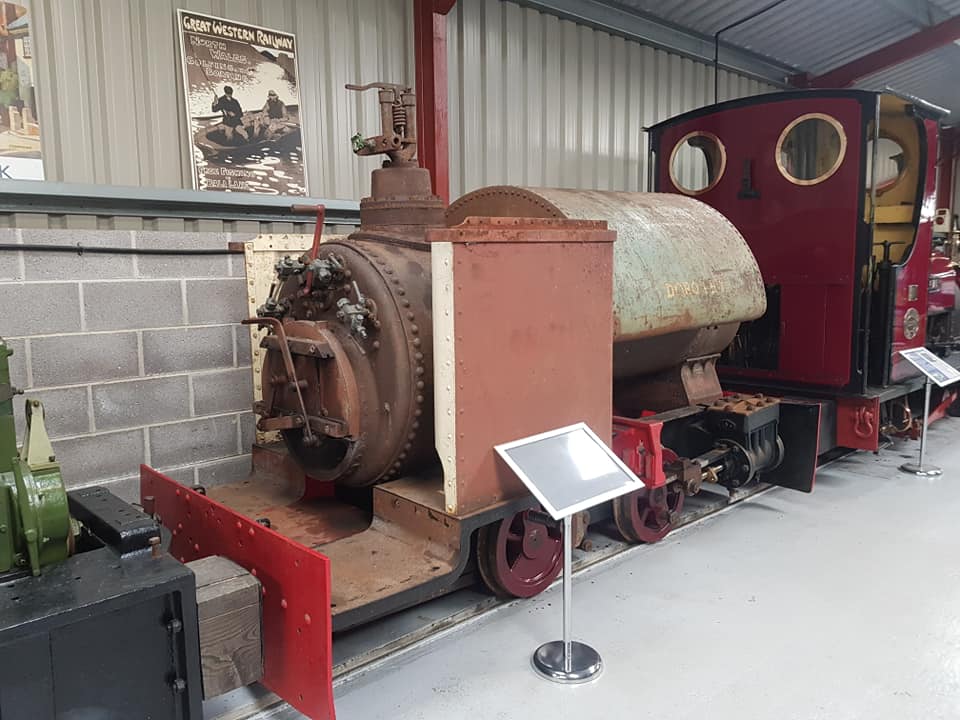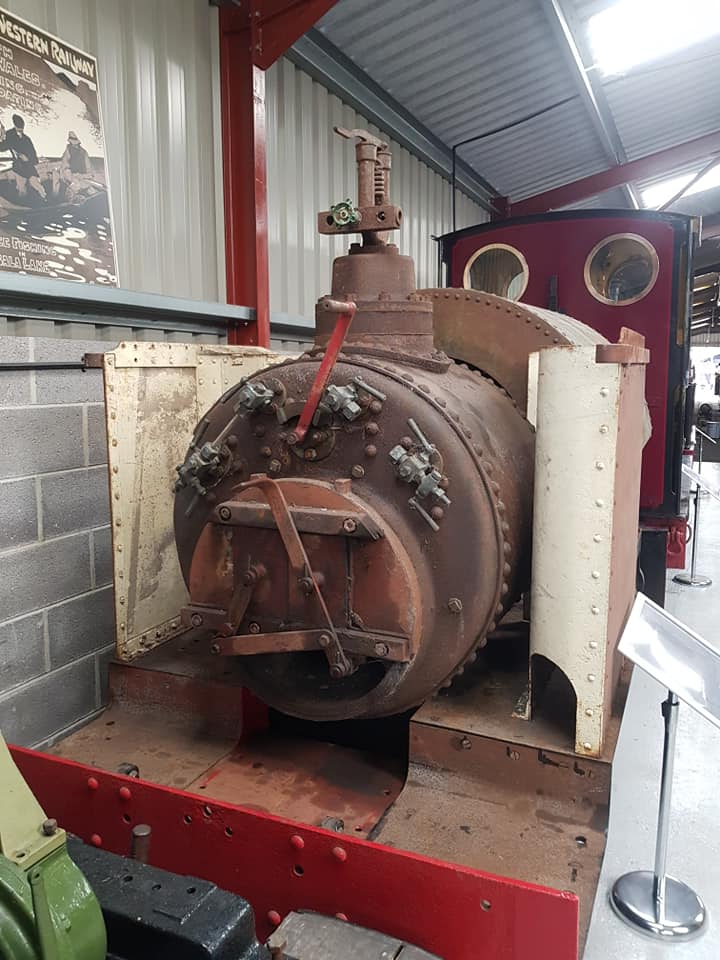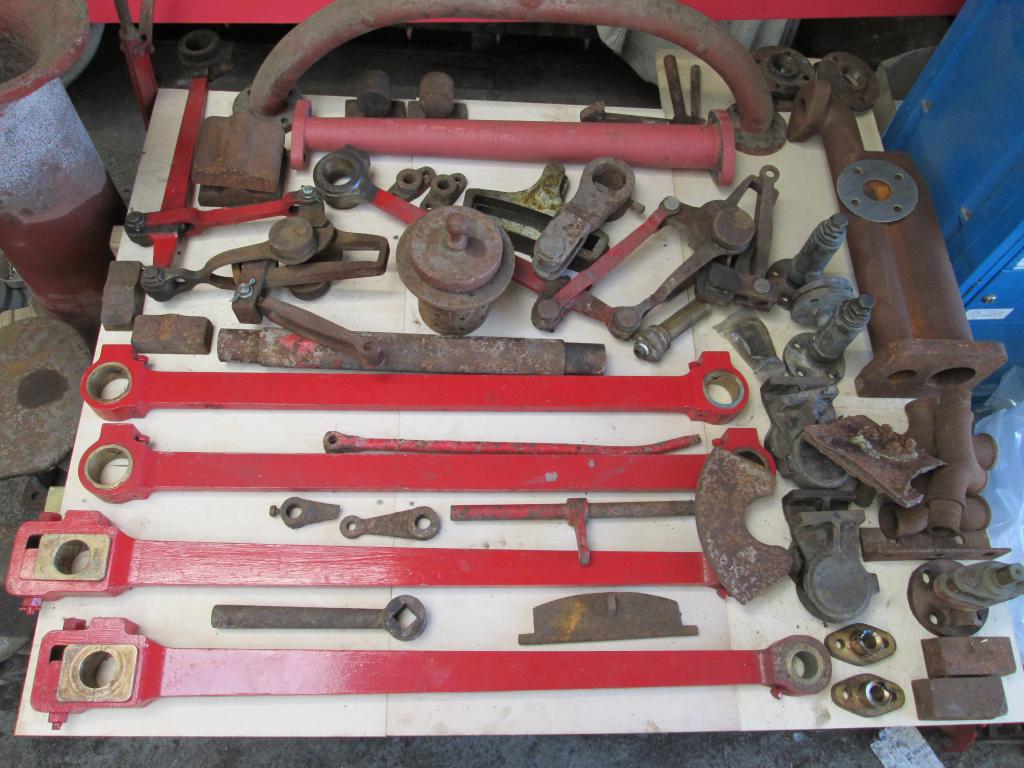 ---
Our annual Alice Day at the end of the month was the usual great success although Alice herself was still in the middle of her ten-year overhaul. But as the day revolves around the renowned artist and author Pauline Hazelwood whose enchanting series of books on little locos have been so successful, Winifred was steamed and coupled to one of the railway's Penrhyn quarrymen's coaches (a re-enactment of her activities for the Re-Railed extravaganza) for rides along the station loop.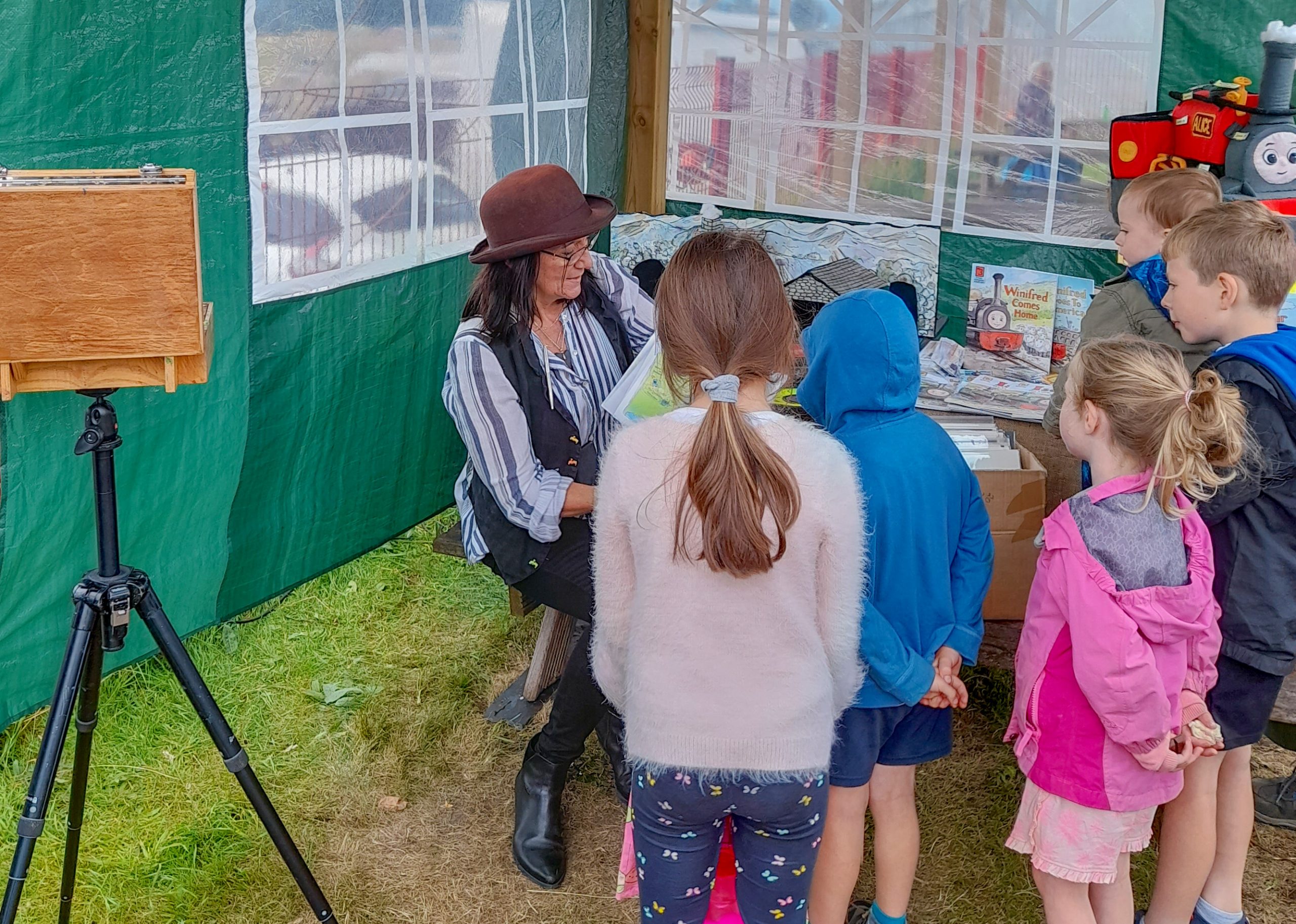 Pauline was in excellent form, sporting her traditional bowler hat, and apart from dedicating purchases and doing impromptu sketching in rare quiet moments, she read sections from her books to groups of mesmerised children, a delightful and heart-warming sight to witness. Pauline's books are published under the banner of Saddletank Books.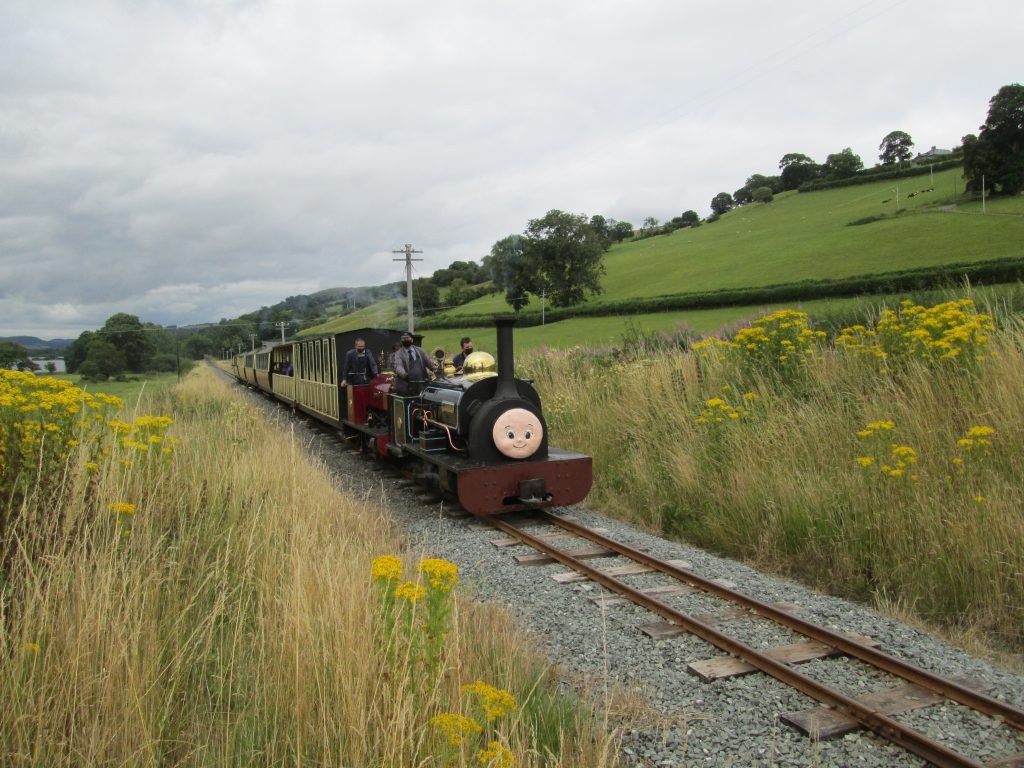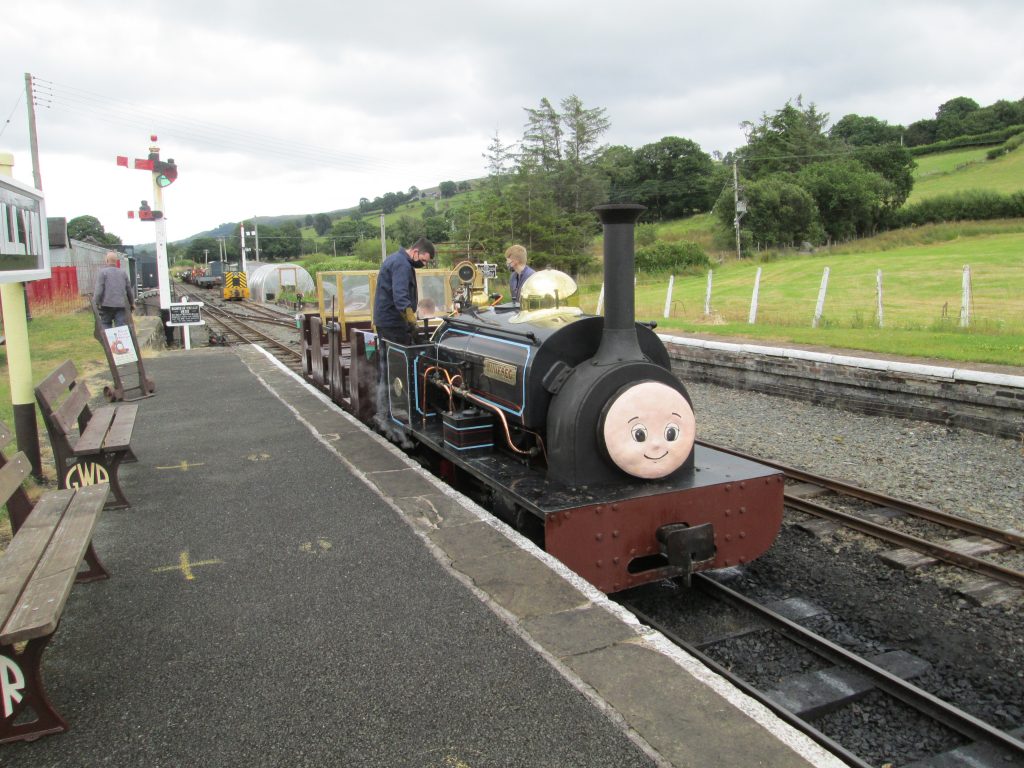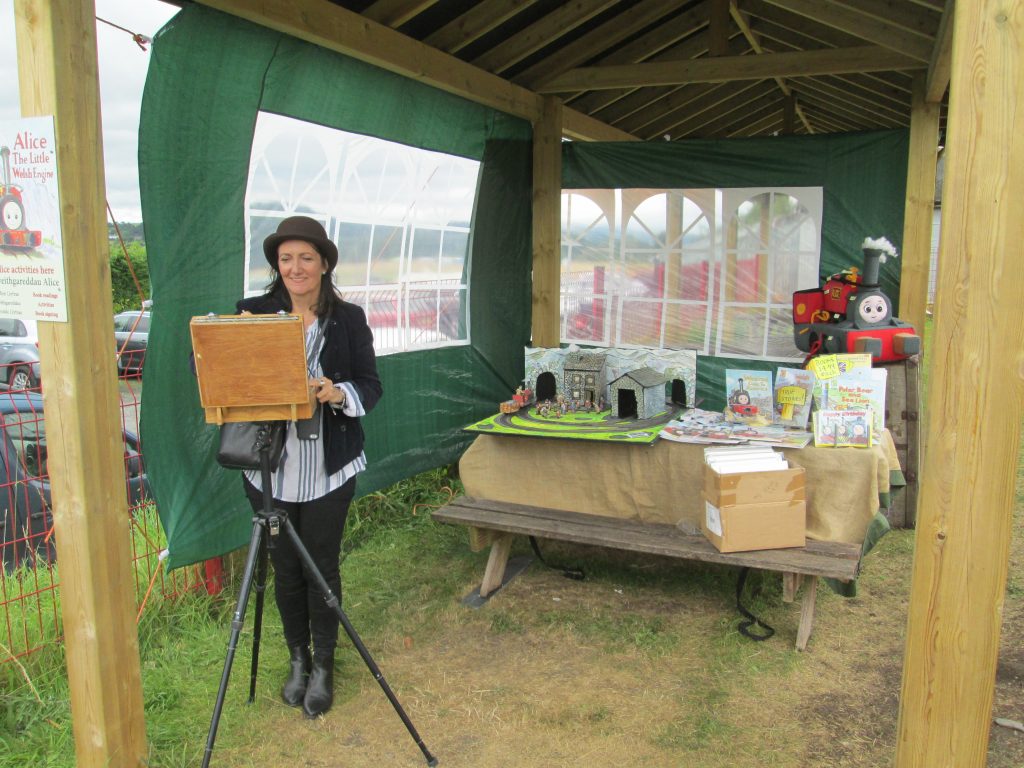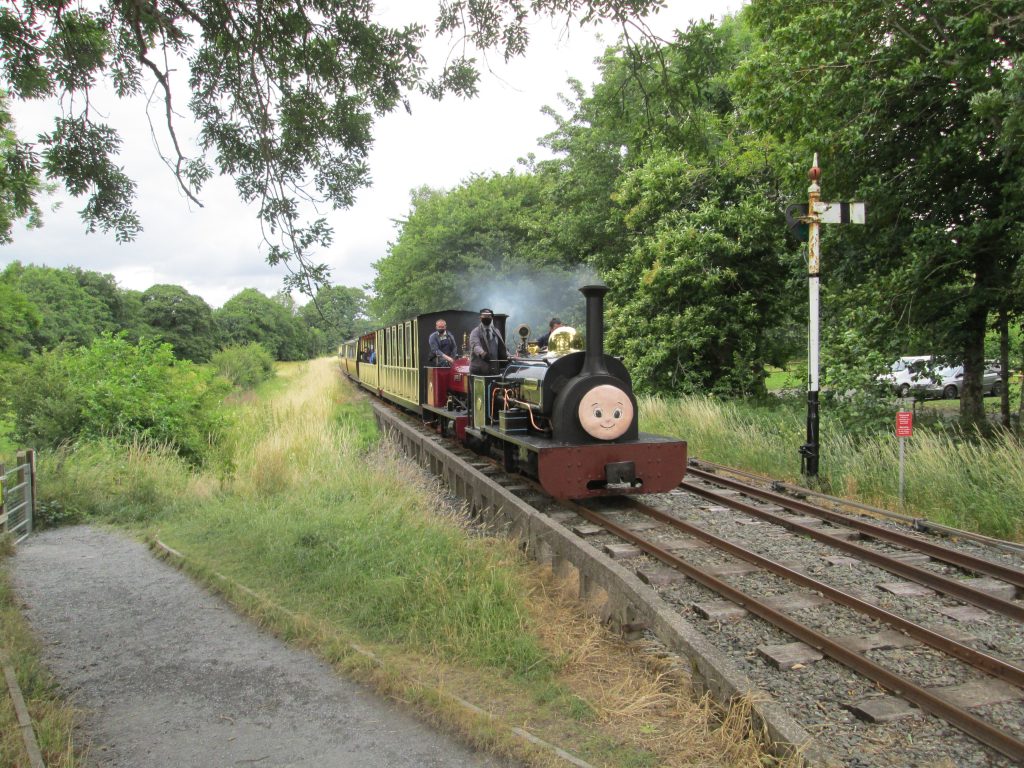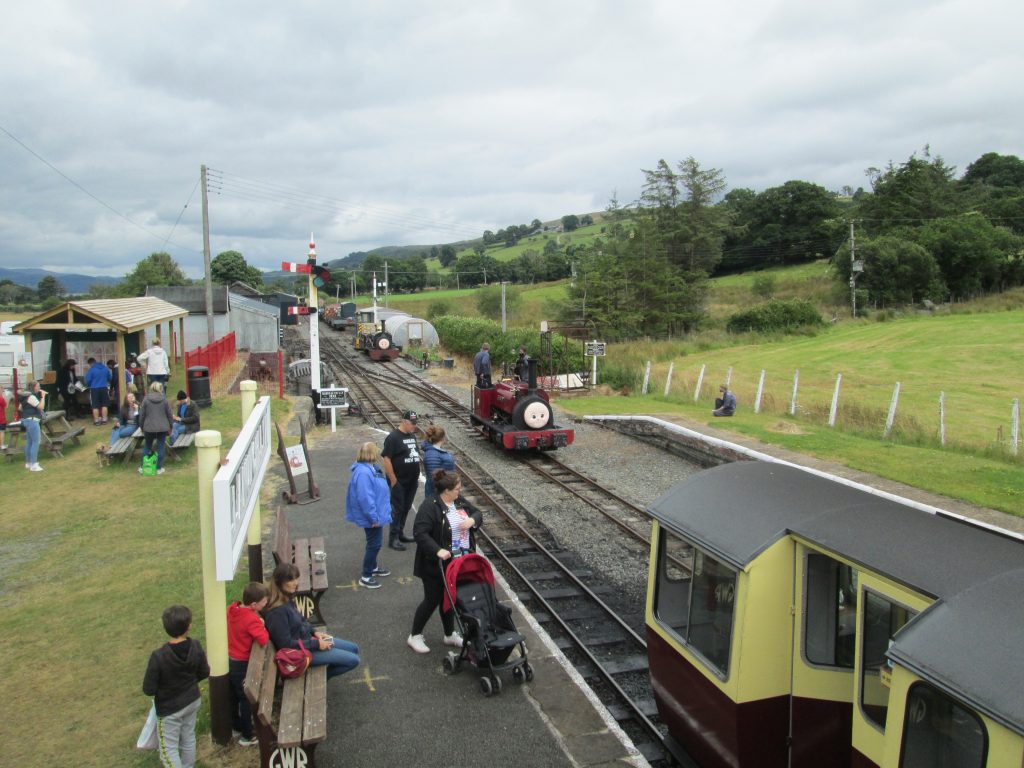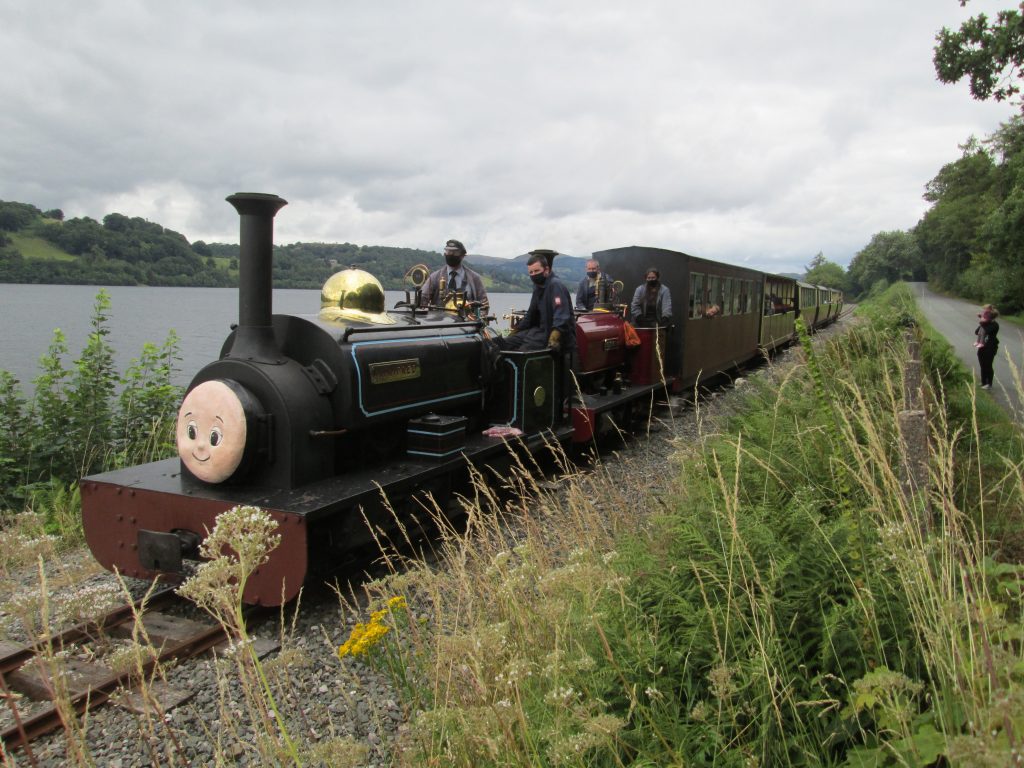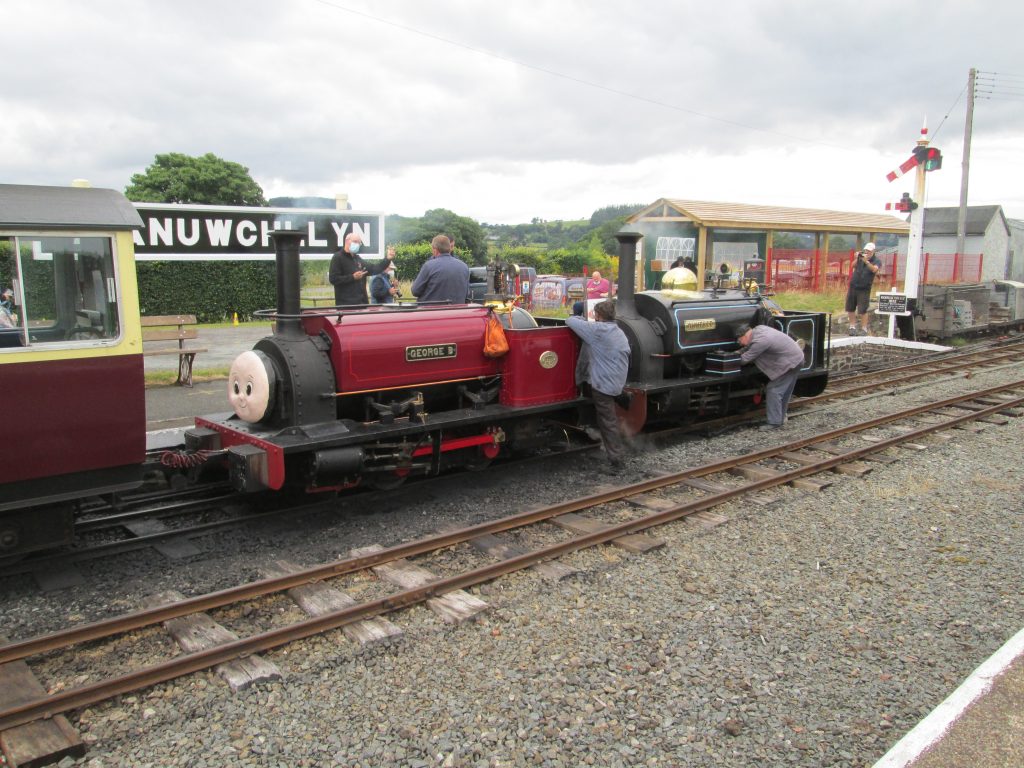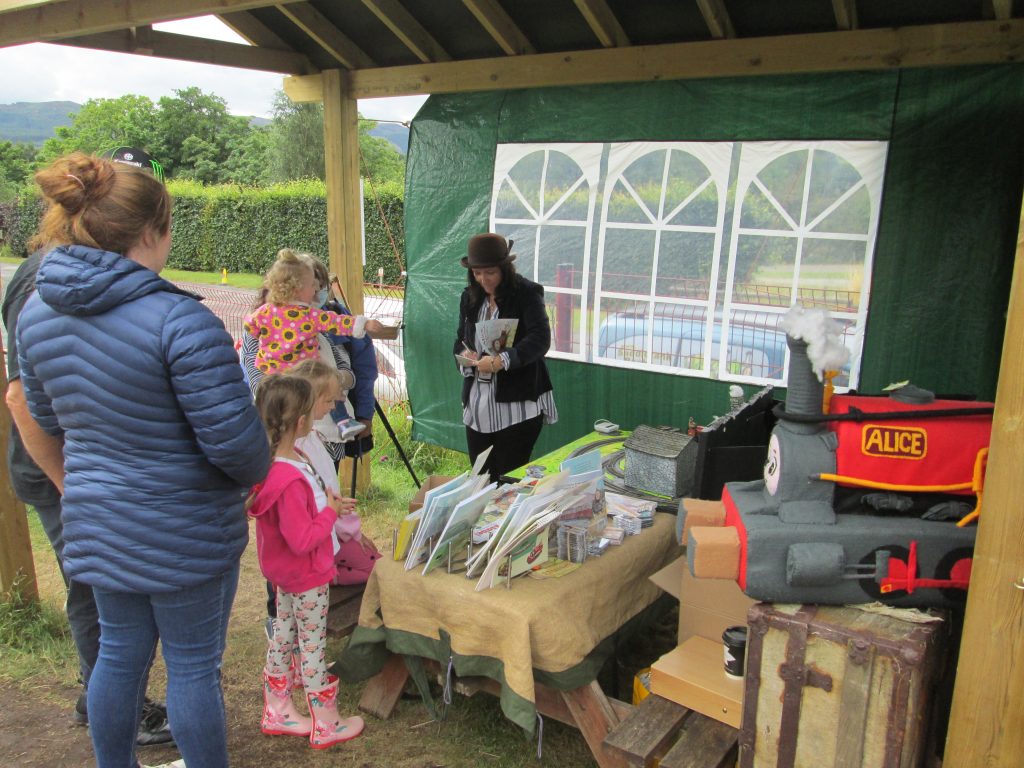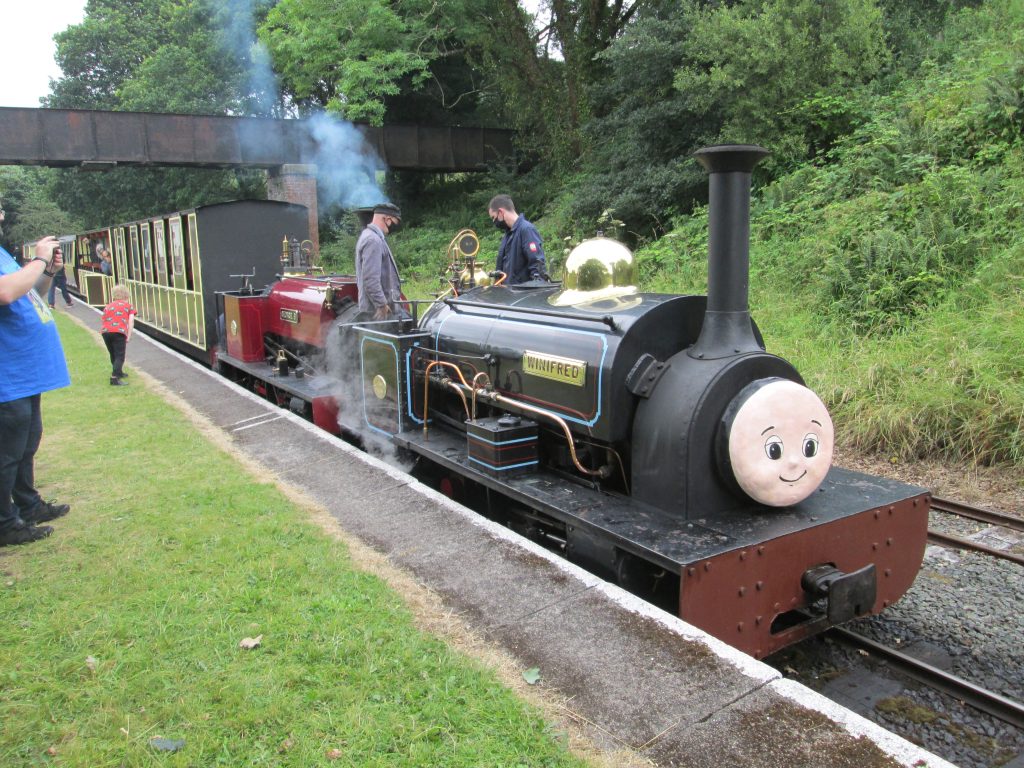 ---
After much preparation and research, the Bala Lake Railway Archive is up and running, and Russell Prince, one of the organisers and whose name will feature later in this news update, issued the following release.
For those who are unaware, 2022 will be the 50th anniversary of the Bala Lake Railway. Obviously before that time, the track-bed was part of the GWR route from Ruabon to Barmouth Junction. There must have been plenty of pictures taken over the years, thus an idea was formed to create a space where pictures and articles of interest cold be held and stored securely for future access.

You never know that some might be put into a book for others to see, maybe around 'Bala at 50', showing the history of where we have come from and where we are now. This is currently being investigated but obviously to help its development, something like this would be very beneficial.

This is where you could be of great help. If you would be kind enough to upload your pictures to the site, please visit https://archive.bala-lake-railway.co.uk

By being kind enough to upload your pictures, this would be seen as giving the railway permission to be able to use your contributions for use in publicity formats/books. Credit where possible will be given to you. We look forward to receiving some fascinating memories."
You will need to register for an account to upload pictures to the site and the instructions will be on the upload files page once registration has been completed.
When uploading pictures, please include as much of the following information as possible:
Name – who took the photo so that you get the credit.
Date – date, month and year or approximation.
Location – where was it taken?
Locomotives – names and details.
People – who, if anyone, do you recognise in the picture?
Occasion – is the photo of a special event, e.g. Gala?
Description – any details and anecdotes about the picture.
---
The Bala Lake Railway Trust is delighted to announce that planning permission for the entire extension route has now entered the public consultation phase. Comments from the public are being invited and so far, all have been very positive. Please click here to see the full planning application, and you will notice just how intricate is the whole process, with dozens and dozens of individual sections for which planning must be sought. But progress is never-ending.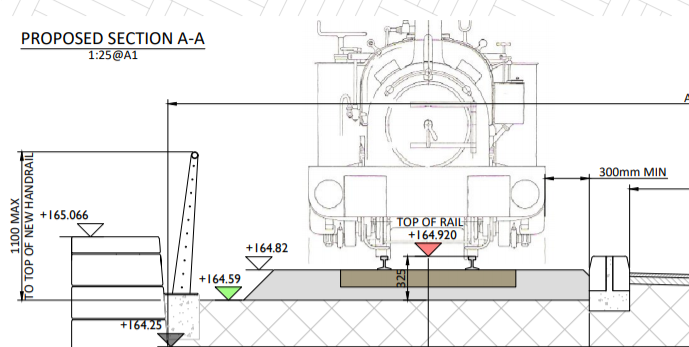 https://www.caulmert.com/ymgynghoriadau-cyn-ymgeisio-estyniad-arfaethedig-i-reilffordd-gauge-cul-llyn-bala/
---
The rebuild of Coach no. 4 progresses remarkably well and as the photos show, the frame for the coach is a time-consuming effort, all done by hand and from plans on the wall. From a few uprights a few weeks ago, we now have the complete frame which is now awaiting the fitting of exterior panels, a remarkable achievement by the engineering team bearing in mind all the other demands on their time.
Coach no. 4 was built in Wrexham in the 1980s but turned out not to be the greatest success and was subsequently dismantled, the chassis being left in one of the sidings. But the frames were perfectly serviceable and it was decided to rebuild the upper sections, this time with a new Guard's Compartment at the Llanuwchllyn end with an observation window at the other, a first for the BLR and a feature which will certainly prove popular. As well as the upper section, the coach will be fitted with brand new, in-house built bogies, a previous pair of which being featured in an earlier update.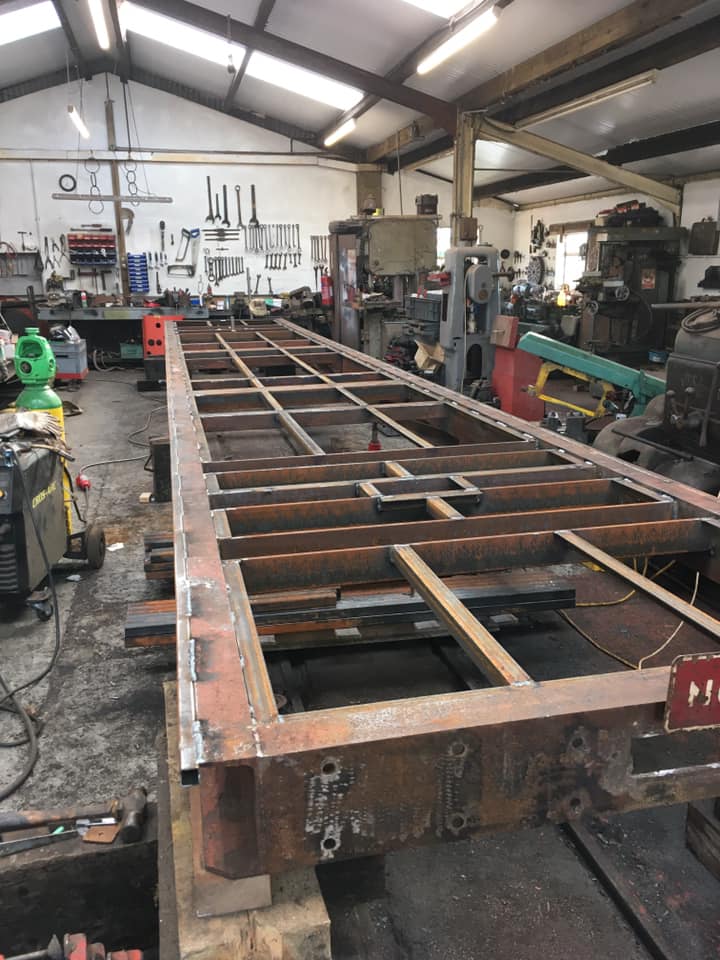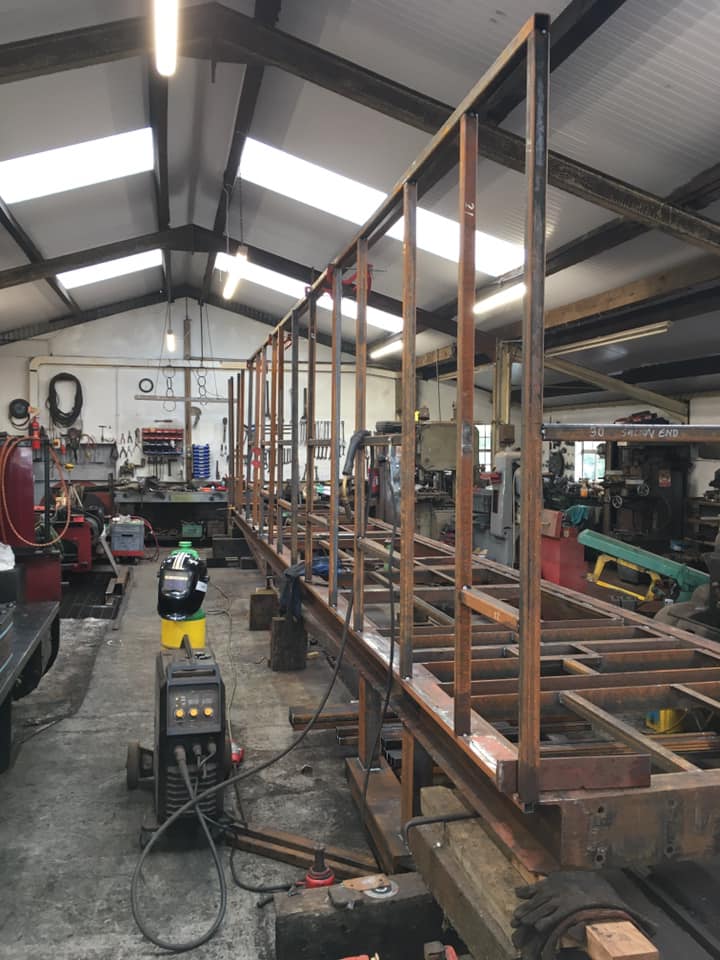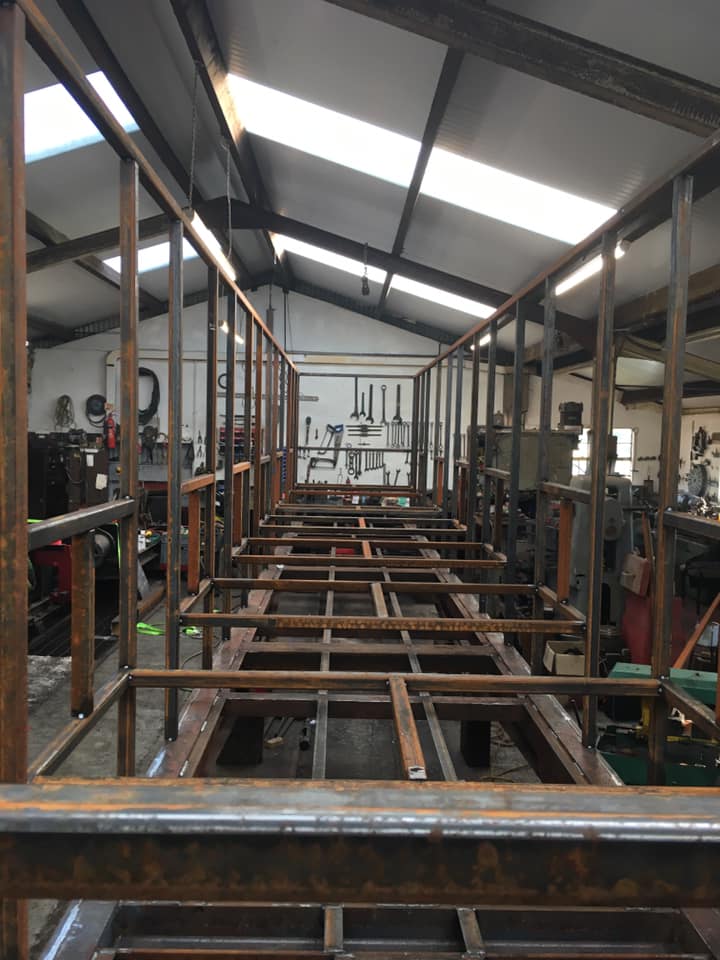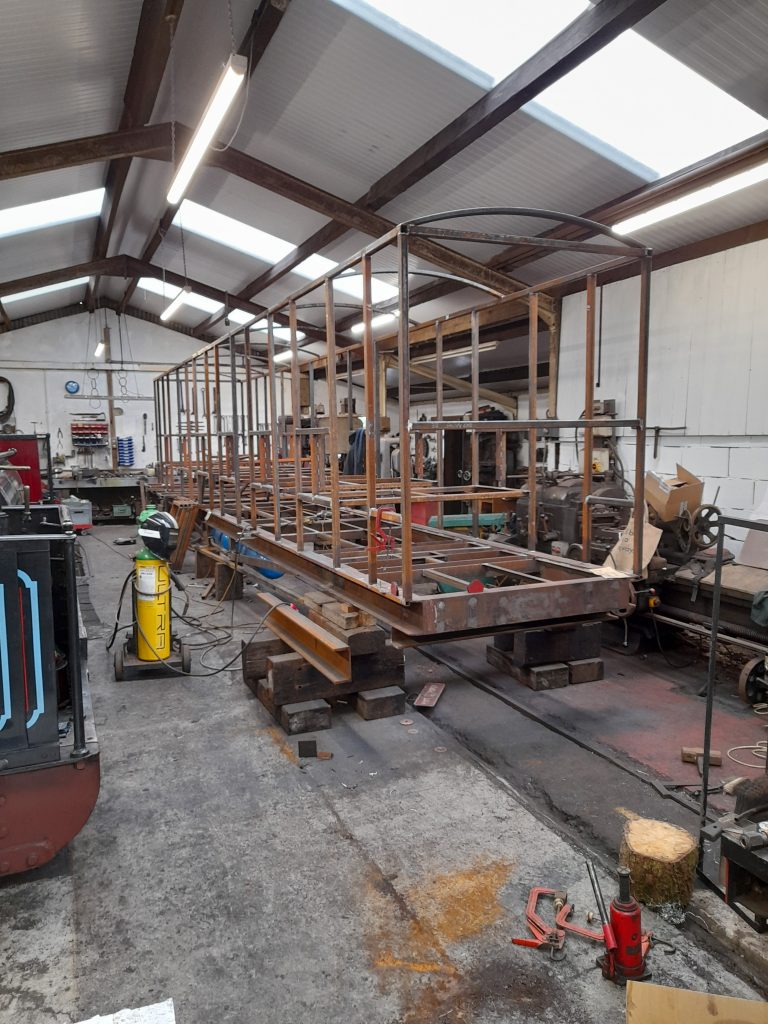 ---
Volunteers' Day is upon us again and Russell Prince is pleased to announce that another of our successful days will take place on Sunday, 12th September. For those not familiar with volunteering, this is a perfect opportunity to spend the day with like-minded people and really see what makes a heritage railway tick, irrespective of whether your preference is for track-work, guarding, maintenance or on the footplate. There is something for everyone. Russell, (one of our loyal group of loco drivers and always with a 'colourful' waistcoat) as well as others of the BLR team, will be on hand to show you what is involved in this worthwhile occupation, and it is not uncommon to hear of new volunteers, after a day of enlightenment, commenting about the multifarious benefits. Do contact the railway to register your interest. There is absolutely no pressure and you will find it a non-regret activity!
While on the subject of volunteers etc. the Bala Lake Railway Society is always welcoming new members and the benefits are numerous. Apart from getting involved in a truly unique railway and its enticing atmosphere, the quarterly magazine, Llanuwchllyn Express, goes from strength to strength under Editor Nick Talbot (another of our footplate team stalwarts) and you have to read it to appreciate what a gold-mine of features it contains in each issue. Do go to the website and join. We have members in all parts of the UK and even if they are not able to visit frequently, they at least take pleasure in reading about what the railway is up to. As a last thought, there is surely nowhere in the heritage railway world more tranquil than sitting on a bench outside the station café at the end of a summer's day with a cup of tea, looking across the tracks at the fields, possibly occupied by sheep or a puttering tractor, and all with hardly a building in sight. It does not get any better.
---
Forthcoming events are approaching thick and fast, so please note these dates.
Firstly, on the 12th and 19th August, we are running our Barbecue Specials which entail a run to Bala after the last scheduled service and a stop at Llangower on the return leg where a BBQ is set up. The combination of aromatic smells and superb scenery next to the lake is a winning combination. Please register your interest without delay as the first run on the 5th was sold out well in advance!
Over the Bank Holiday weekend, 28th – 30th August, we will host our annual Steam Gala which will feature some two-train passenger services, crossing at Llangower, as well as photo-freights and double-heading. On top of all this, we are due to have a visitor, namely Margaret, a 'small quarry' Hunslet, no. 605 and built in 1894, courtesy of the Vale of Rheidol Railway. As always with a BLR Gala, you can be sure that there will be something else happening.
Diesel Day will take place on the 17th October, which shows that the BLR does not totally revolve around steam. It is planned to use our diesels Bob Davies, Chilmark and Merionnydd on passenger services as they have the power to haul full trains, with our other smaller machines Lady Madcap and Murphy on small photo freights and other duties. Naturally, steam will be in the mix as well so you can be assured of a lot of fun activity.
Our diesel fleet requires remarkably little attention but one side effect of the arrival of Dorothy is that she has been placed in the Heritage Centre and our diesel Chilmark has been moved to the main loco shed for some attention to her glow-plugs. She has never been renowned as a good starter but after a little bit of tender care from our engineering team, she was purring happily at the end of July in readiness for October and much to the delight of onlookers. That relaxing three-cylinder thrum is therapeutic.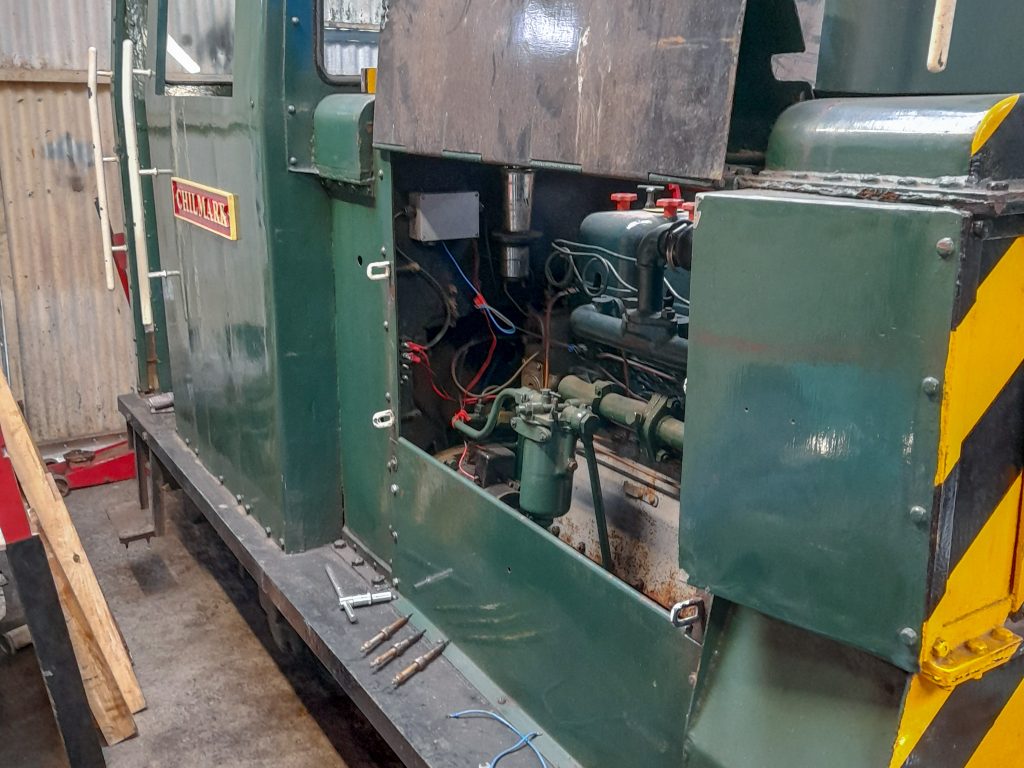 On a sad note, the annual Great Little Trains Model Railway Show at the end of September has had to be cancelled. It is a great shame but predictable, bearing in mind that Welsh restrictions are more stringent and the Governors of Bala School, where the show always takes place, felt that having lots of people from all over the country, including exhibitors, was too much of a risk to the health of the pupils and staff. Conditions permitting, the show will return in 2022.
---
And finally……. we have two delightful snippets this month. Volunteer Francis Stapleton has been busy, amongst other things, restoring a Dinorwic rubbish wagon and the opportunity was seized to take it for a test-run along the station loop, as shown in this short film. It should be noted that this wagon has double-flange quarry wheels, thus will not negotiate points, so the wagon was carefully manoeuvred on to the loop.
Secondly, the arrival of Dorothy caused a large amount of interest, not least from our severest technical critic who inspected every aspect and orifice! She then emulated a scene from the film Born Free and went to sleep atop a Land Rover!