NEWS UPDATE No. 111
As a follow-up to the Jubilee Weekend and the Bala at 50 celebrations, passengers came from far and wide to enjoy the lake and the appealing BLR mode of transport. The half-term week was as busy as ever, indeed the same as last year but the extra day of the Jubilee Bank Holiday actually brought few benefits and everyone was predictably involved with other activities, not least street parties which did so much for the community spirit of the country.
All trains sported Bala at 50 headboards thus carrying on the message for events which will take place in August.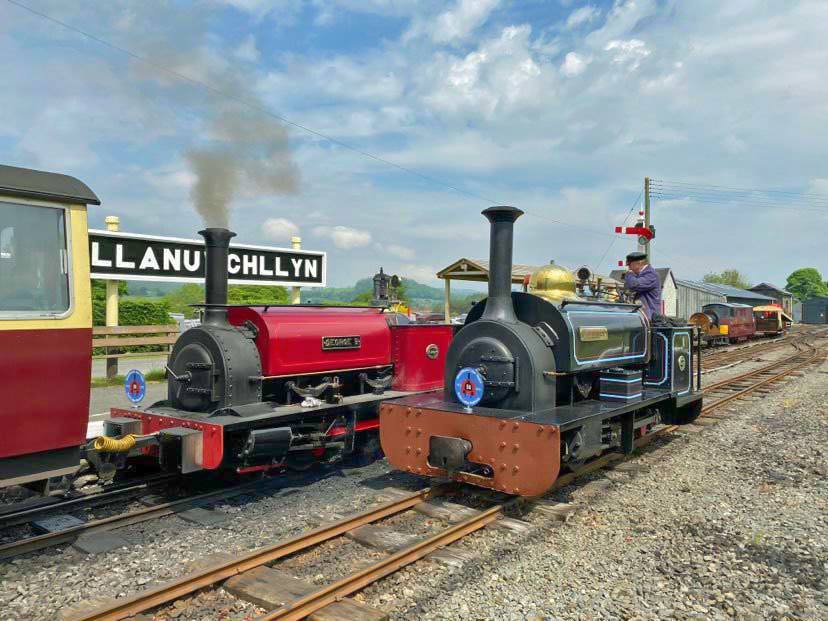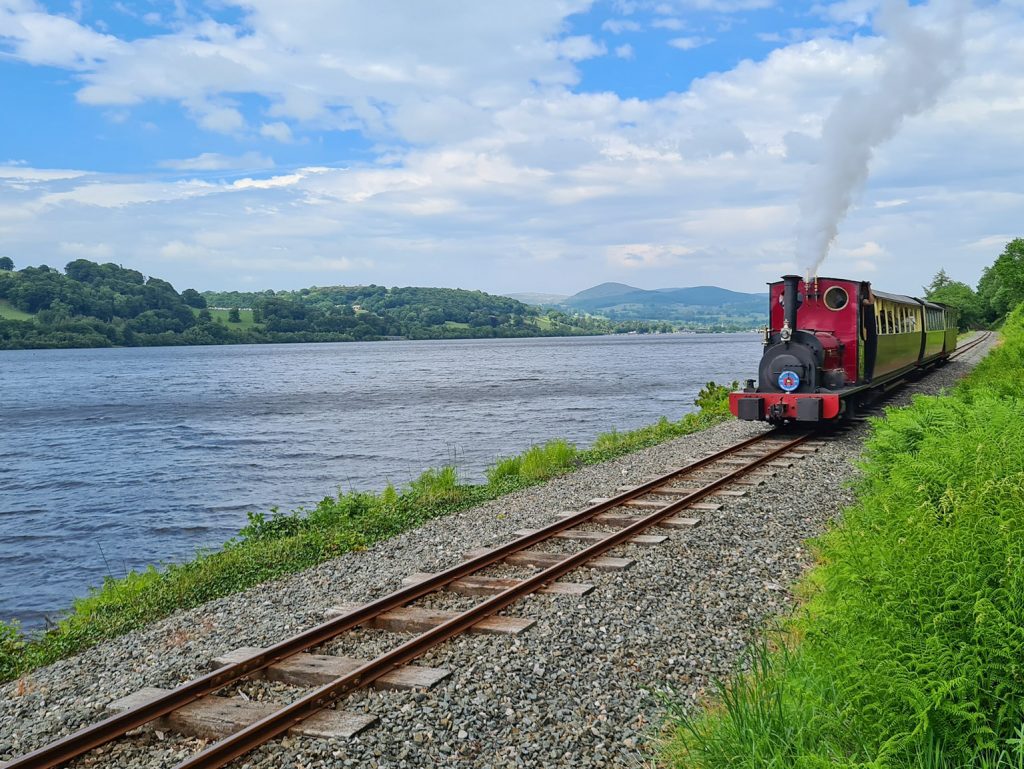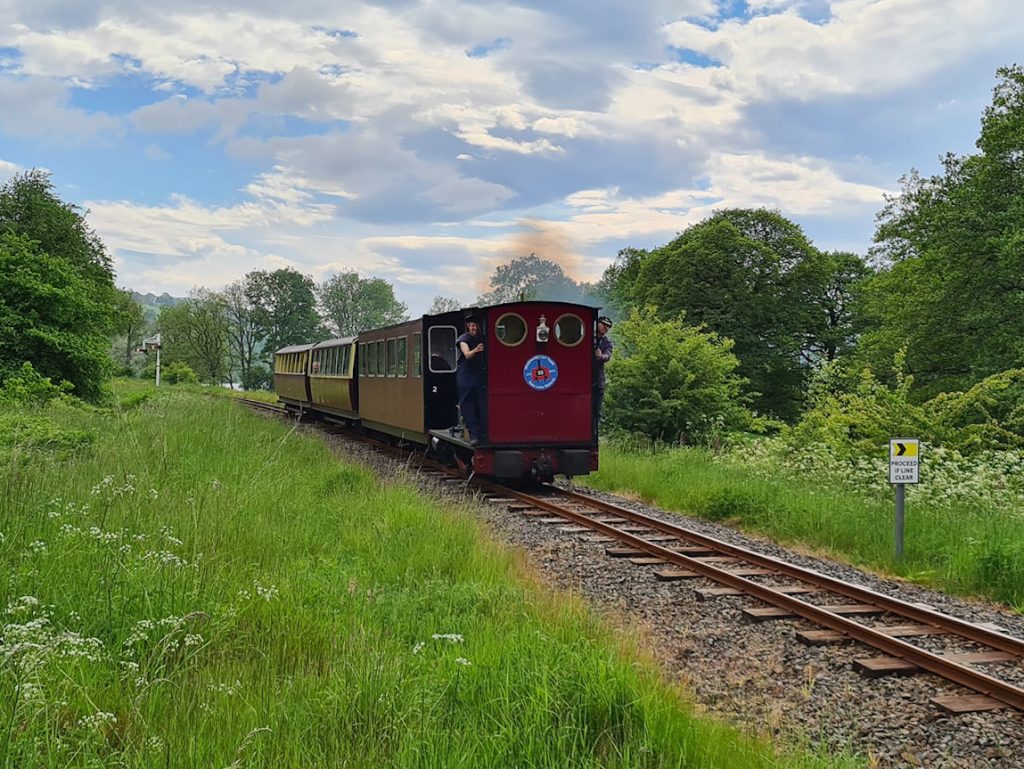 For the month of May, passenger numbers were better than 2021 but after so many records being broken of late, the month had merely to content itself with being a great success. But the station was treated to some TLC when husband and wife team of Andrew and Val Coward carried out the laborious task of painting the platform edge which really brightened the station.
---
During the month, a delegation from Welsh Members of the Heritage Railways Association journeyed to Cardiff on a lobbying mission to discuss with members of the Senedd the thorny question of coal for heritage railways and its availability. There were representatives from the BLR, Talyllyn, Festiniog, Vale of Rheildol and Welshpool & Llanfair as well as the Llangollen and Gwili lines, all urgently seeking some guidance about the future of coal availability.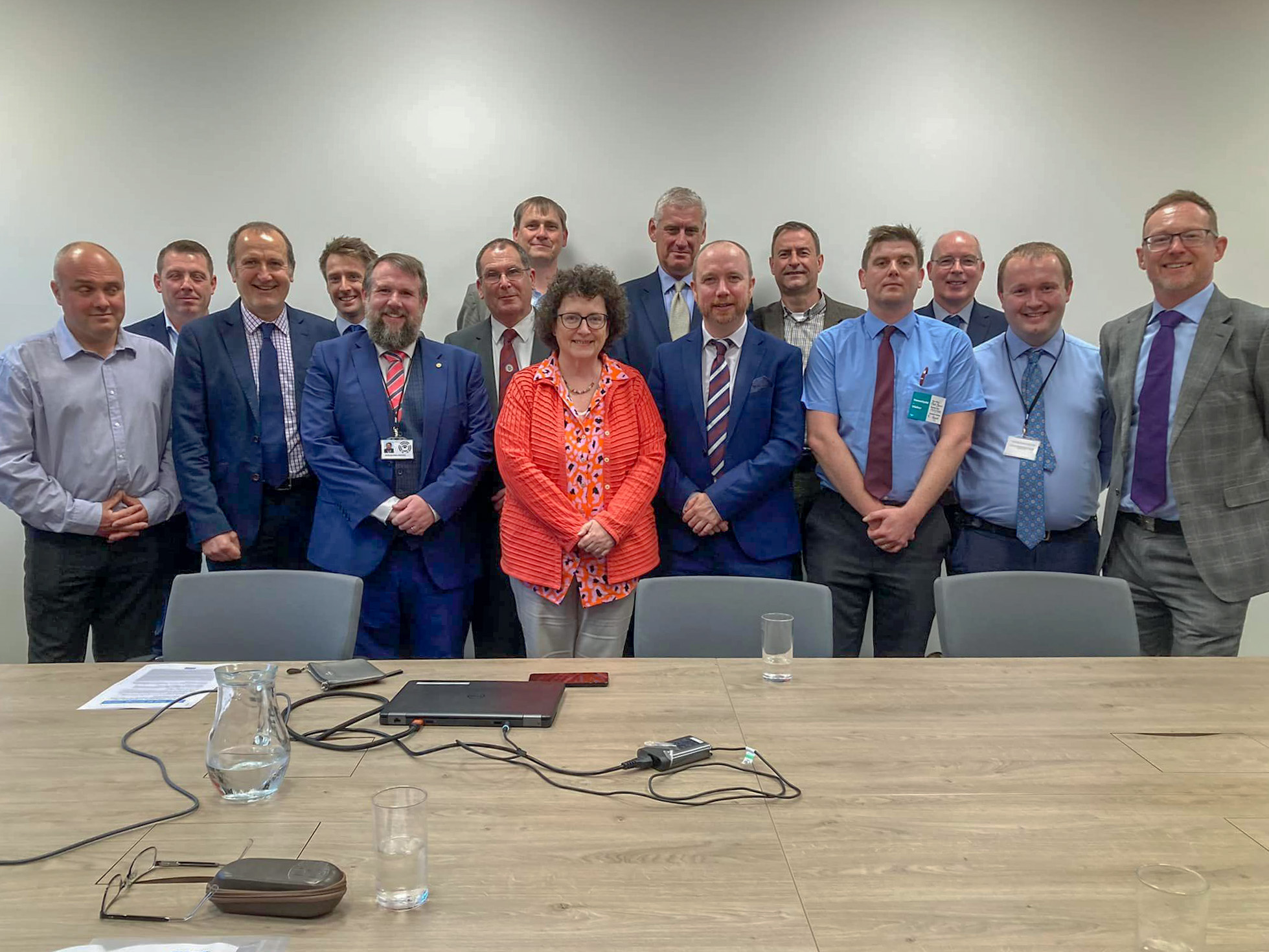 The delegates were greeted cordially and the point was strongly made that there is lots of coal in Wales, good steaming coal, but 'regulations' preclude the mining of this much needed commodity. The point was also made that current supplies have to be imported which is nonsensical bearing in mind the attendant transport costs with its consequent energy consumption.
In exactly the same way that politicians expand on the hype about the environmental benefits of electric vehicles, what they do not mention is the huge about of earth that has to be mined, with ancillary energy usage, to get the elements necessary to make one battery. They also fail to mention that trying to recycle a battery uses further large amounts of vital energy and is virtually impossible - albeit at the moment. By the same token, many look at a steam locomotive and surmise that the smoke is appalling – and that facet is of course also dependent on the quality of coal being used, particularly imported supplies from other parts of the world, the quality of which prompts much head-scratching!
But consider this; the Bala Lake Railway uses around 50 tons of coal a year and this consumption releases 119 tons of CO2 into the atmosphere. One, repeat one return flight from London to New York and back produces 138 tons of CO2, and there are currently 18 such flights daily, not to mention many more connections between other airports in the two countries.
As the Senedd agreed, it is indeed a subject that needs careful study in a practical manner and away from the one-sided hype currently being put forward. As the military axiom states; assumption is the mother of all foul-ups.
But the good news is that Welsh Steam Coal is back on the agenda, albeit temporarily, as the washery that grades the coal for steam engines has been repaired. But it is now over to the Senedd to approve extending the extraction licence for the last steam coal mine in Wales beyond the end of this year.
---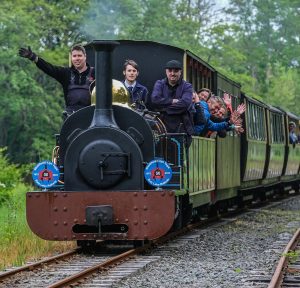 The Bala Lake Railway is always keen and ready to help with the many events that take place on the lake, and the 'Swim Train' is just one. There are various swimming competitions throughout the year but the BLR Swim Train features a race from Llangower to the beach in Bala close to the Loch Café.
Competitors gathered at the current Bala station and boarded the special train to Llangower for their epic crossing to the beach.
Six carriages of this early service were packed with enthusiastic competitors and ensuing noise for the fun race, plus the organisers always like to start early which suits the railway as this extra service slots in nicely before the first scheduled service of the day.
All thoroughly enjoyed the experience and rumours of sightings of the fabled lake monster Teggie were brushed aside and put down to a surfeit of glasses of Purple Moose the night before.
---
Following on from BLR Director Julian Birley receiving his well-deserved British Empire Medal (BEM) for services to Railway Heritage back in 2015 the BLR now has another worthy recipient in the Queen's Birthday Honours for 2022 with BLR Chairman Dr David Gwyn receiving an Order of the British Empire (OBE) for Services to Archaeology and History in Wales. This much applauded award is, in part, for his valiant 13 years of work to get the Welsh Slate Landscape to World Heritage Status. We present here a brief synopsis of his interesting career.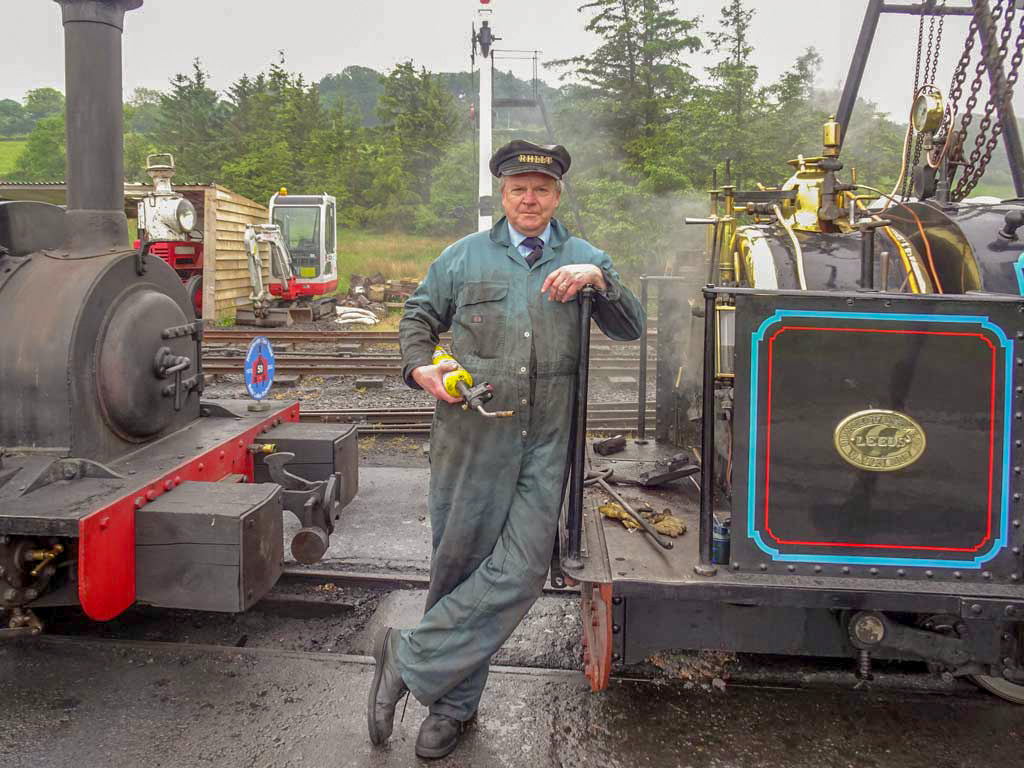 "Dr David (Dafydd) Gwyn is Bangor-born but Bethesda-bred, at least until he, with his parents and brother, moved to Manchester when he was just seven. But he never lost touch with Wales – holidays were always spent with grandparents in Cerig y Drudion and Maenan – and vowed that one day he would return!
That took some time. Three years at University in England were followed by three years at university in Ireland for his Doctorate, after which he spent eleven years teaching at a boarding school in Berkshire which he admits he enjoyed very much, unfashionable thought though that may be! But hiraeth proved too strong and back he came, finding work as an archaeologist and historian. Membership of the Lilla group on the Ffestiniog was his entrée into railway-related matters, then after a few years, he was recruited by Roger Hine (former General Manager of the BLR) as a Director of the railway and, coincidentally very shortly afterwards, to the board of the Ffestiniog, of which he is now a Trustee. He contributed some of the initial studies which led to the inscription of Pontcysyllte Aqueduct and Canal as a World Heritage site in 2009, and was able to persuade Gwynedd Council to initiate the process of nominating The Slate Landscape of Northwest Wales very shortly afterwards. He was delighted to be awarded an OBE in June this year but stresses that the honour also reflects the work of friends and colleagues along the way. He currently has a few further literary projects in mind and looks forward to being kept busy for many years to come".
Anyone who has stopped and marvelled at the majestic hillsides at Dinorwic or Penrhyn may well have pondered quietly about the many years of struggle by hundreds of slate miners and the conditions in which they toiled. One only has to visit the Welsh National Slate Museum in Dinorwic to see what they had to contend with, as well as the sheer skill they needed to do their jobs. Trying to split a slate without making a total hash of it (as this writer can testify) is an art in its purest form and only acquired over many years. The fact that The Welsh Slate Industry has David Gwyn as its champion speaks volumes for this award and David's work ethic. Anyone who would like further reading should immerse themselves in his tome titled Gwynedd – Inheriting a Revolution.
---
While on the subject of Dinorwic and the skills only acquired over a very long period, feast your eyes in the pattern-making hall at Dinorwic. What looks like metal castings are in fact wooden moulds used for casting metal objects of all types, wheels, skew-gears, wagon couplings and countless other items, and all manufactured 'in-house'.
The following press release has already been published in other quarters but as a codicil to the preceding paragraph, it is totally refreshing that the BLR has such a talented member on our volunteer force.
"Volunteer Les Symonds is a long-term supporter of the railway and lives in Bala. He is continuing the traditional and highly skilled craft of pattern-making, being a member of the elite Register of Master Turners, and is making a wooden pattern for new chimney tops for our Dinorwic Quarry Hunslets Alice and Holy War .
Accurate detailing of these enchanting locomotives is so important in order to maintain their historical integrity and accuracy. Both locomotives are being overhauled and will be returning to traffic later this year but until now have been using chimneys which bear only a passing resemblance to the original!
Les has been working with the foundry, John Taylor and Company, in Loughborough in order to calculate the amount of shrinkage involved in the casting process and with such a complex design, this has been far from easy.
It is inspiring to see such an art as this being retained in the 21st century".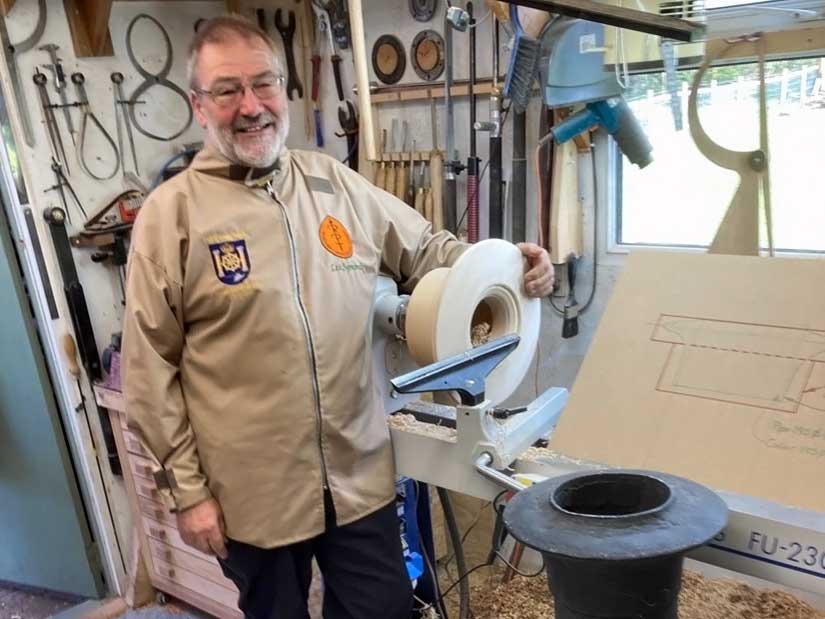 ---
Photos can sometimes speak many words and what we see here are the new smoke-boxes for Holy War and Alice before the new chimneys are fitted. What has been fitted are the new 'wrappers' for the smoke-boxes, made of stainless steel and produced in a joint effort with the Ffestiniog Railway in another demonstration of co-operation. They needed a new wrapper for Velinheli and it is almost as easy to manufacture three as it is one.
Fitting these unruly pieces of metal is not for the unskilled or faint-hearted. The sheets have to be teased and bent around the smoke-box and after very careful measuring, a drill hole is made at the top after which the wrapper is then slowly encouraged to bend around the 'box. Secured by a small screw, further holes are carefully drilled, ensuring complete symmetry, and only when everything is absolutely right are the original holes drilled out to a larger diameter to accommodate larger permanent bolts. As a final flourish, as can be seen in the photos, the heads of the hexagonal bolts are filed down to resemble dome-headed rivets. Chief Engineer Rob Houghton can be justifiably proud of his work.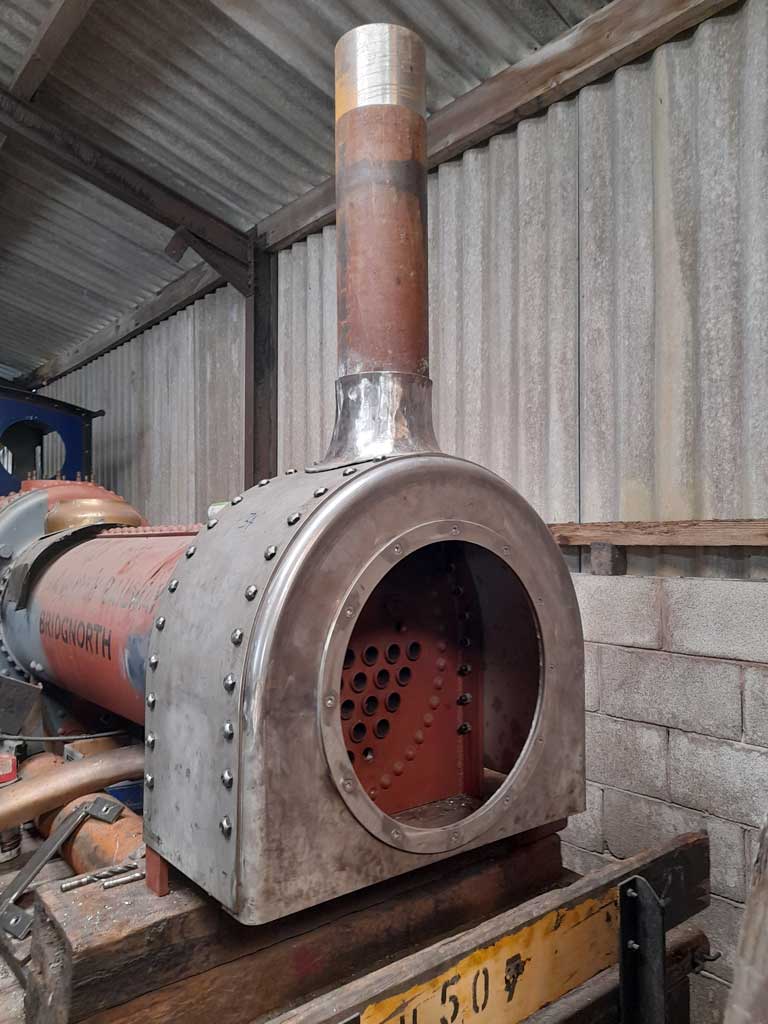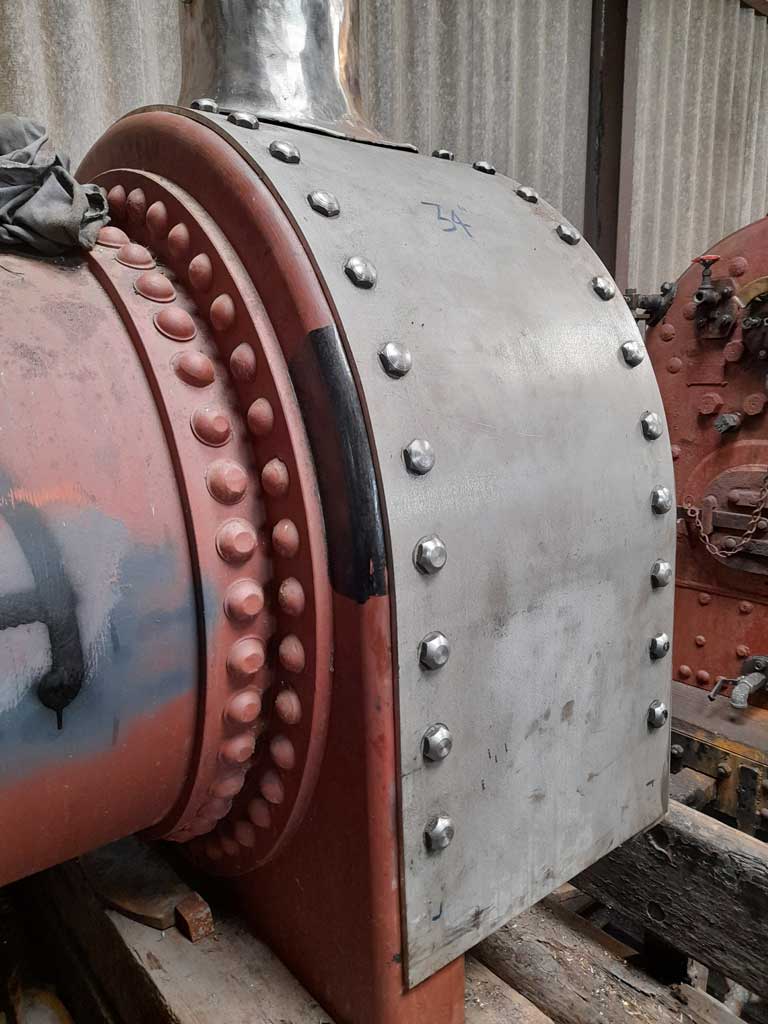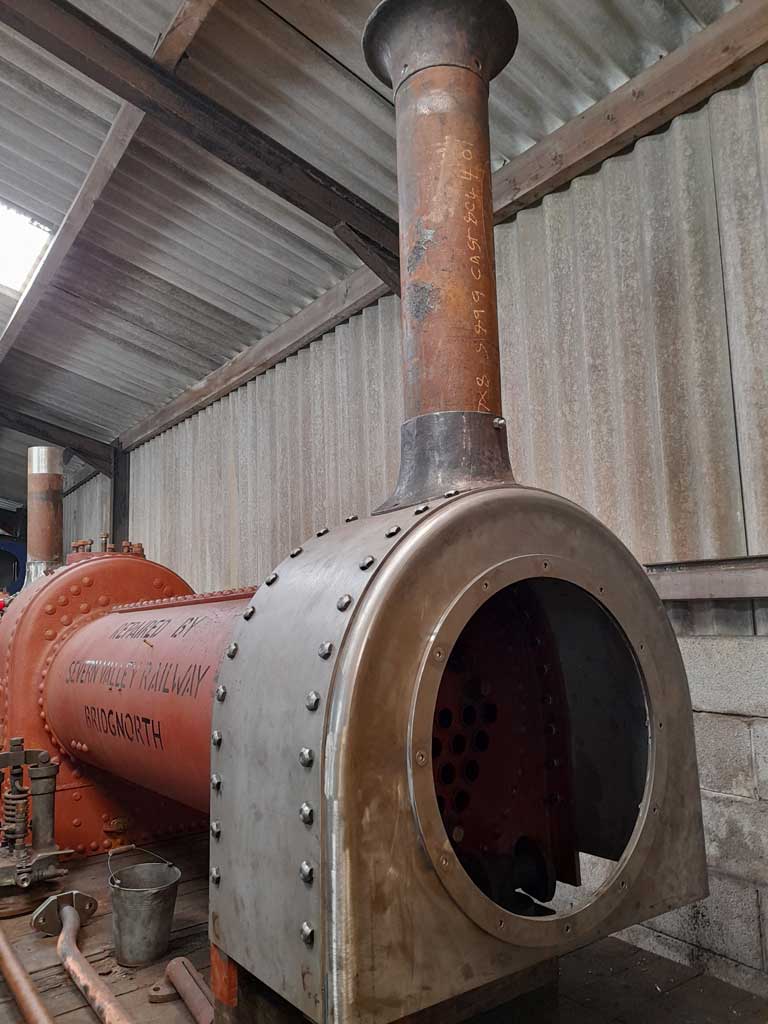 ---
And finally………… Never mind the number of male staff and volunteers who were itching to get their hands on the traction engines which visited Llanuwchllyn for the Bala at 50 Celebrations, we show a delightful photo by Alan Ewart of perennial volunteer Barbara Cooper getting to grips with some serious machinery. Along with her equally energetic husband, Norman, Barbara does so much for the railway, whether it be looking after trade stands, guarding or whatever is needed - as well as keeping an eye on Norman when he is on the regulator! The list of what they do is too long to cover adequately their activities here. A treasure.